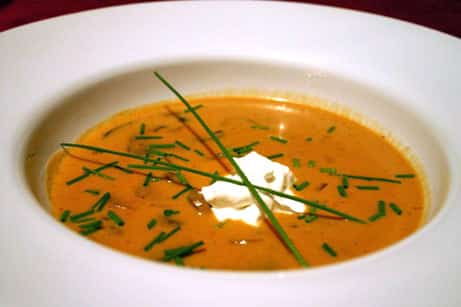 This post may contain affiliate links. Thank you for supporting the brands that keep me creative in my tiny kitchen!
I'm not sure where I got this recipe, but I hadn't made it for a while and was craving it. It's such a comforting soup, and the cool sour cream is really nice mixed in with the hot curried soup. Dino doesn't usually like soup, but he LOVES this one. It comes together pretty quickly, too. My only word of caution is to make sure you get pureéd pumpkin only, and not pumpkin pie mix. My father-in-law got the canned pumpkin for it last year, and we didn't realize until it was too late (and too sweet!) that he had gotten the pie mix. Consider yourself warned!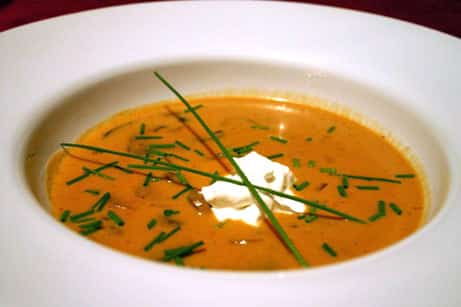 Curried Pumpkin Soup
6 servings
2 tablespoons butter
8 ounces mushrooms, sliced
¼ cup onion, chopped
2 tablespoons all purpose white flour
1 tablespoon curry powder
3 cups chicken broth
2 cups canned pumpkin
1 tablespoon honey
½ teaspoon salt
¼ teaspoon ground nutmeg
¼ teaspoon black pepper
12 ounce can evaporated milk
sour cream
chives, chopped
Melt butter in a large saucepan; add mushrooms and onion, and cook until tender, stirring often.
Stir in flour and curry powder; gradually add chicken broth, and cook over medium heat, stirring constantly, until mixture is thickened.
Stir in pumpkin and next 4 ingredients; reduce heat, and simmer 10 minutes, stirring occasionally. Stir in milk, and cook, stirring constantly, until thoroughly heated. Garnish, if desired.
MacGourmet Rating: 5 Stars