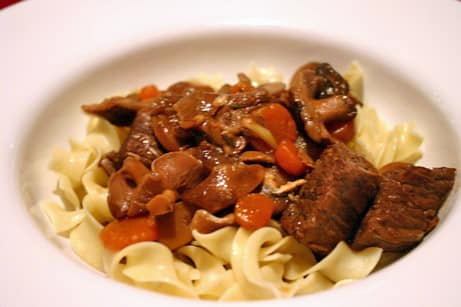 Beef Braised with Red Wine and Mushrooms
This post may contain affiliate links. Thank you for supporting the brands that keep me creative in my tiny kitchen!
We decided to pick up some new cheese from the grocery store a few nights ago. I threw on some salami nuggets, grapes, and pumpernickel bread and it made for a great snack while dinner was cooking! I can't believe how many awesome cheeses are in the regular grocery store now – and we've already eyed some up for the next time we want to splurge.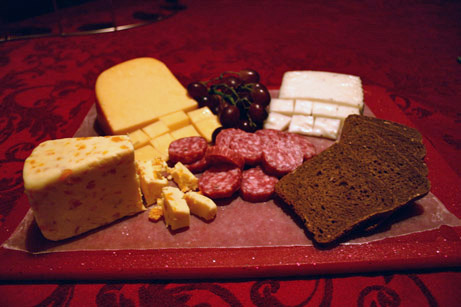 Top Left: Applewood Smoked Gouda Top Right: Winey Goat
Lower Left: White Stilton with Apricot
Dinner was a really tasty beef dish. I couldn't find cremini mushrooms so I used a mix of portabella, shiitake and button mushrooms instead. I could only find red pearl onions, so I subbed those too. The flavor is very good, and it was great served over egg noodles. It's definitely a comforting meal.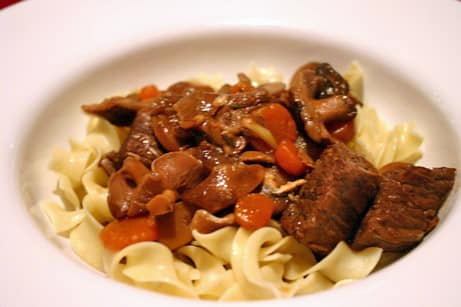 Beef Braised with Red Wine and Mushrooms
Cooking Light October 2007
½ cup dried porcini mushrooms (about 1/2 ounce)
1 cup boiling water
1 ¼ lbs. lean beef stew meat, cut into 1-inch cubes
¾ teaspoon salt, divided
½ teaspoon freshly ground black pepper, divided
2 tablespoons olive oil
1 cup pearl onions (about 16)
6 cups chopped cremini mushrooms (about 1 pound)
1 ½ cups (1/4-inch) slices carrot (about 2 large)
1 ½ cups fat-free, less-sodium beef broth
½ cup dry red wine
4 thyme sprigs
3 cloves, garlic crushed
2 bay leaves
1 tablespoon water
2 teaspoons cornstarch
Add a teaspoon or two of ground dried porcini mushrooms along with the broth and red wine to give the dish an extra layer of mushroom flavor. Meaty, earthy-tasting mushrooms such as porcini or black trumpet are ideal. Serve over egg noodles or rice.
Combine porcini mushrooms and 1 cup boiling water in a small bowl; let stand 30 minutes. Drain mushrooms through a sieve into a bowl, reserving liquid. Chop mushrooms; set aside.
Sprinkle beef with 1/4 teaspoon salt and 1/4 teaspoon pepper. Heat oil in a large Dutch oven over medium-high heat. Add half of beef to pan; sauté 5 minutes or until lightly browned on all sides. Remove beef from pan with a slotted spoon; place in a bowl. Repeat procedure with remaining beef.
Add onions to pan; sauté 3 minutes or until lightly browned. Add cremini mushrooms and carrot; sauté 3 minutes or until mushrooms are tender. Add beef, porcini mushrooms, porcini liquid, remaining 1/2 teaspoon salt, remaining 1/4 teaspoon pepper, broth, and next 4 ingredients (through bay leaves); bring to a boil. Cover, reduce heat, and simmer 1 1/2 hours or until beef is tender. Uncover and cook 20 minutes, stirring occasionally.
Combine 1 tablespoon water and cornstarch in a small bowl. Add cornstarch mixture to pan; bring to a boil. Cook 1 minute or until liquid thickens. Discard thyme sprigs and bay leaves.
Wine note: Mushrooms and merlot are a natural match. An affordable California version like Buena Vista Carneros Merlot 2004 ($20) provides classic merlot flavors of plum and black cherry fruit along with a touch of earth and smoky oak that marries beautifully with mushrooms. The wine's rich flavor and firm tannins make it a perfect choice for flavorful beef, as well. –Jeffery Lindenmuth
Yield: 4 servings (serving size: 1 1/4 cups)
Nutritional notes:
CALORIES 307 (30% from fat); FAT 10.3g (sat 3.8g,mono 4.3g,poly 0.6g); PROTEIN 33.5g; CHOLESTEROL 88mg; CALCIUM 47mg; SODIUM 716mg; FIBER 3.5g; IRON 4.8mg; CARBOHYDRATE 19.9g
MacGourmet Rating: 4 Stars