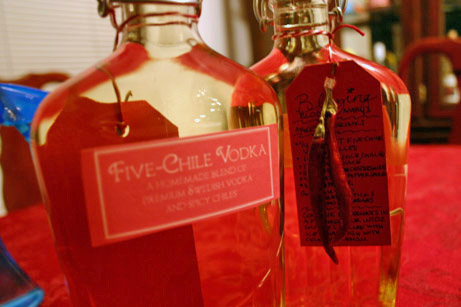 I saw this idea in a magazine and just had to try it out to give as gifts to a few people at work. I made the Five-Chile and the Coffee ones, and they were a huge hit! I didn't try them out (yet), but I found bottles at the container store, printed out some labele, and wrote a recipe on a tag on each bottle. It's a great gift to give, and it's super easy to make.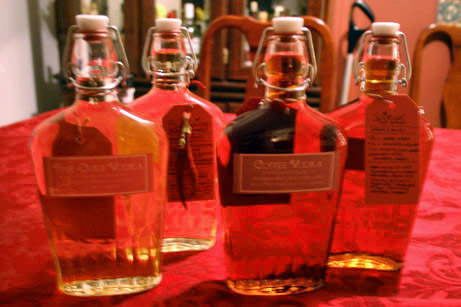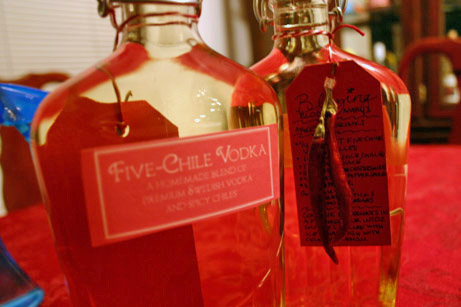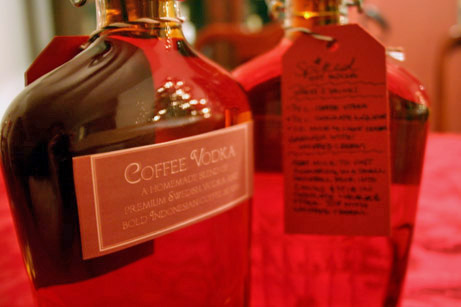 Infused Vodka
Every Day with Rachael Ray December 2007
STEP 1
Place 1 liter of vodka and your infusion ingredients in a large bottle and seal shut; let rest in a cool, dark place for 2 to 5 days, depending on your desired strength.
COFFEE
1/2 cup crushed (not ground) coffee beans; shake every 2 days during infusion.
APPLE VANILLA
2 whole, split vanilla beans + 1 apple, peeled and sliced.
FIVE-CHILE
5 dried chiles, chopped
ORANGE GINGER
1 orange, sliced + 1/2 cup sliced fresh ginger
STEP 2
Strain and pour into gift bottles.
STEP 3
Print recipe gift tags, (rachaelraymag.com).