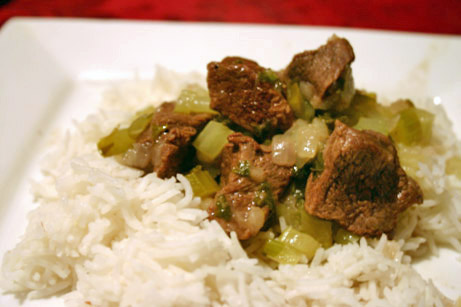 Khoreshe Karafs (Persian Celery Sauce)
I finally made another recipe from this fabulous cookbook that my friend Megan got for me. The first recipe I made from it was AMAZING (Persian Meatloaf), and I just didn't know what to make next until a few days ago. I always giggle when I go through the recipes in this book because they'll have a name like "Vegetable Sauce" and the first ingredient will be ground lamb. So this one was called "Celery Sauce" but it was much more than that. I'd like to make this again but cut down the amount of sauce and increase the amount of meat. The flavors worked SO well together, and we loved it, but we ended up throwing out leftover celery after we finished off the meat. Another winner though!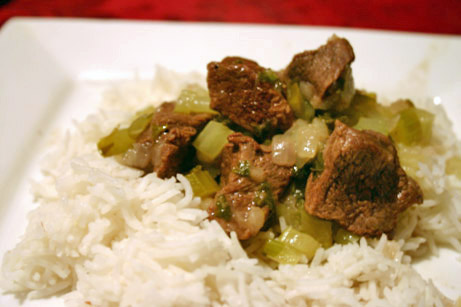 Khoreshe Karafs (Celery Sauce)
In a Persian Kitchen: Favorite Recipes from the Near East
4 tablespoons butter
1 pound stew beef or round beef, cut in 1″ cubes
1 large onion, finely chopped
½ teaspoon pepper
1 teaspoon salt
1 teaspoon cinnamon
¼ teaspoon nutmeg
2 cups water
4 tablespoons butter
4 cups celery, diced
1 cup parsley, chopped
3 tablespoons lemon juice
Melt butter in a 2-quart pot. Add meat, onions, and seasoning and sauté until the meat is browned. Add water to the meat, cover, and let cook for about 30 minutes or until the meat is tender. Melt 4 tablespoons butter in a skillet, add celery and parsley, and sauté it for 10 minutes. Add the sautéed vegetables and lemon juice to the meat and let simmer for another 15 minutes. Serve with chelo. Makes 4-5 servings.
MacGourmet Rating: 4 Stars