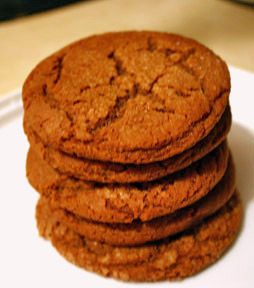 This post may contain affiliate links. Thank you for supporting the brands that keep me creative in my tiny kitchen!
We made these cookies a few nights ago and we're still enjoying them. They were easy to make and definitely taste like the holidays. The only "issue" that we had was that Dino was rolling them a lot larger than I was, so it didn't even make half of the number of cookies that it was supposed to. It's always fun to try to navigate the tiny kitchen with a helper though, so it was worth it.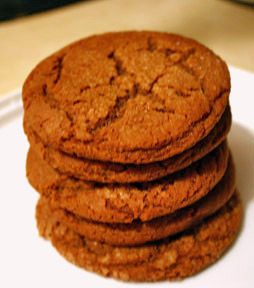 Molasses Crinkles
Betty Crocker's Cooky Book
3/4 cup soft shortening
1 cup packed brown sugar
1 egg
1/4 cup molasses
2 1/4 cups flour
2 teaspoons soda
1/4 teaspoon salt
1/2 teaspoon cloves
1 teaspoon cinnamon
1 teaspoon ginger
Granulated sugar
Mix shortening, sugar, egg and molasses thoroughly. Measure flour by dipping method or by sifting. Blend all dry ingredients; stir in. Chill.
Heat oven to 375°. Roll dough into 1 1/4-inch balls. Dip tops in sugar. Place balls, sugared side up, 3-inches apart on greased baking sheet. Sprinkle each with 2-3 drops of water. Bake 10-12 minutes, or just until set but not hard. Makes 4 dozen cookies.
MacGourmet Rating: 4 Stars