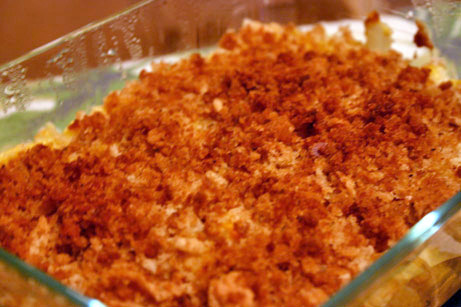 We had our second round of Thanksgiving celebrations a few weekends back. We brought some of my standard dishes as well as a new one the my mom has made for years but I never cared for until recently.
My grandma gave me her deviled egg Tupperware when we were in Indiana. I told her I'd put it to GREAT use. I make them just how she does, and they're always a big hit! I've posted them here before, but here's a shot of the Tupperware: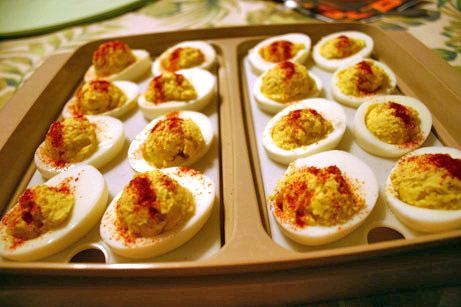 Dino put together a board with the cheeses that we picked up at the store (Jarlsberg, Winey Goat & Brie). The Winey Goat was awesome! It was a more firm goat cheese bathed in red wine. Talk about combining two of my favorite things! Here's a shot of his set up: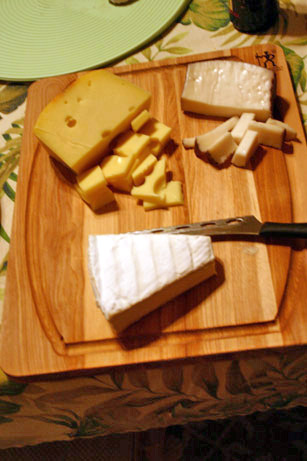 I know a lot of people talk smack about green bean casserole, but it's just not Thanksgiving to me without it: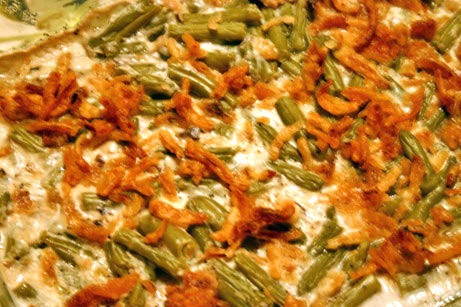 I made the same apple pie that I made last year, except I used store bought crust this time around. It worked out well except that it tore REALLY BAD on top when i flipped the crust to cover it. That just means it's a "rustic" pie, right?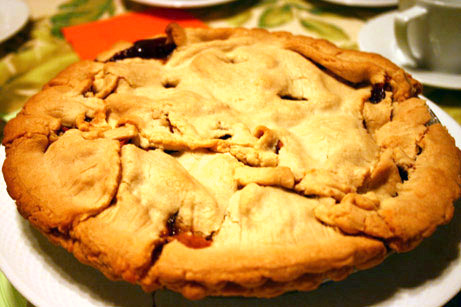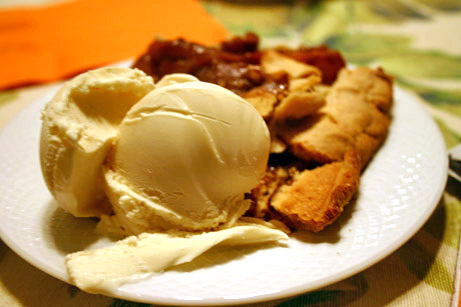 So now, the squash casserole recipe. I usually don't like things with stuffing mix in them. I try really hard but I'm just not a fan of stuffing. But when we were in Indiana for the first round of Thanksgiving fun this year, I promised my mom I'd try it again. It was really good! It had been quite a few years since I had tried it, and my tastes have changed since then…so why not?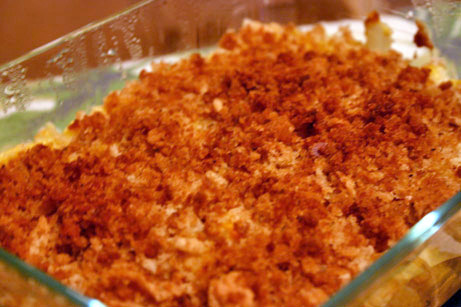 Squash Casserole
Mom
1 medium onion, chopped
2 cups butternut squash
½ cup butter
2 Tablespoons butter
1 can Cream of chicken soup
1 cup sour cream
1 8 ounce package herb seasoned stuffing, (typically sold in 16 ounce packages)
Cook squash until soft; mash with fork
Sauté onion in 2T butter until soft. Add squash, soup and sour cream.
Melt 1/2c butter and add to stuffing; mix well. Add to mixture, reserving 1/3 of stuffing; top with remaining stuffing.
Pour into 9×13 pan. Bake at 350 for 30 minutes.
MacGourmet Rating: 5 Stars
And a shot of Dino's first plate of Thanksgiving dinner (for the second time in 2 weeks):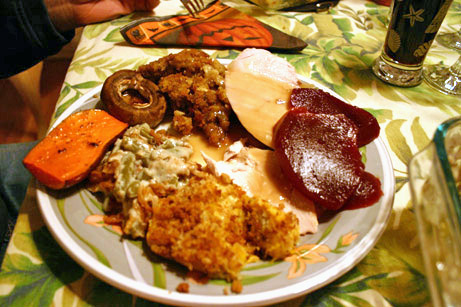 Happy Holidays!