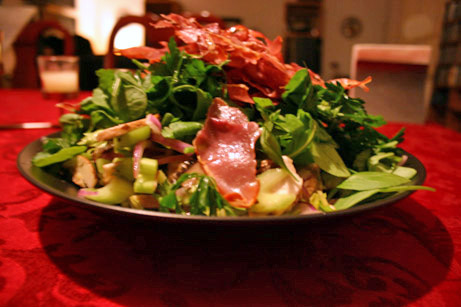 Portobello Salad with Crispy Prosciutto
This post may contain affiliate links. Thank you for supporting the brands that keep me creative in my tiny kitchen!
We were out of town for a week, so tonight was my first night back in my kitchen. I was a little frazzled because I had a million things to catch up on, so I didn't realize until just now that I totally forgot to drizzle this salad with truffle oil. I think it would have helped (how could it not have?), but otherwise this salad was just OK. There was entirely too much lemon juice soaked into the mushrooms. I had 2 large lemons, so I only juiced 1 1/2 of them, but it was kind of overpowering. It was an OK dinner for something light and easy to make, but I won't make it again. There are just too many other recipes to try out!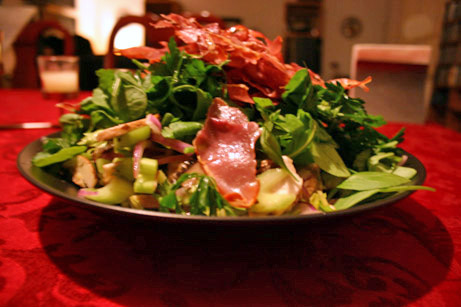 Portobello Salad with Crispy Prosciutto
Every Day with Rachael Ray October 2007
Four Servings
¼ lb. thinly sliced prosciutto
4 small portobello mushroom caps, stemmed and thinly sliced
6 ribs celery from the heart with leafy greens, thinly sliced on an angle
½ small red onion, thinly sliced
¼ cup extra-virgin olive oil (EVOO)
Juice of 2 lemons
Salt and pepper
2 cups baby arugula
½ cup flat-leaf parsley leaves
Truffle oil, for drizzling (optional)
1. Preheat the broiler. Arrange the prosciutto in a single layer on a foil-covered baking sheet and broil until crisp, 3 to 4 minutes. Set aside.
2. Toss the mushrooms, celery and onion with the EVOO and lemon juice; season with salt and pepper. Arrange on a platter and top with the arugula and parsley. Drizzle with truffle oil, if using. Break up the crispy prosciutto and scatter over the salad.
MacGourmet Rating: 3 Stars