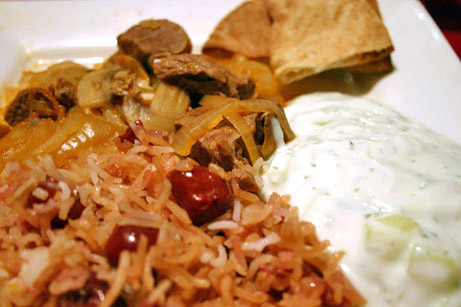 Beef with Mushrooms (Etli Mantar)
This post may contain affiliate links. Thank you for supporting the brands that keep me creative in my tiny kitchen!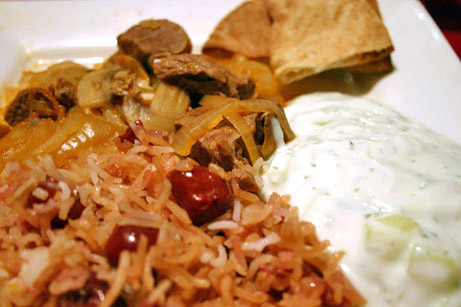 I used the leftovers from the dinner party as sides for another meal the next day. I picked another one from Binnur and it was really good. The only negative thing was that I doubled it and there was a LOT of liquid when it was done cooking. The only beef at the store was a little tough, too. The flavors were awesome, and it kind of tasted like a stew. I've never had a bad recipe from Binnur's blog! Another tasty Turkish dish!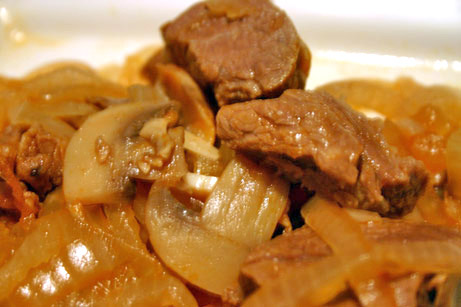 Beef with Mushrooms (Etli Mantar)
Binnur's Turkish Cookbook
7.14 oz. beef, cut in cubes
7.14 oz. mushrooms, sliced
1 onion, sliced
2 cloves, garlic sliced
1 tablespoon butter
2 tablespoons extra virgin olive oil
1 tablespoon tomato paste
2 cups water
1 teaspoon salt
½ teaspoon pepper
Cook the beef in a medium sized pot with 1 cup water on medium-low heat. Add the butter, olive oil, onion, garlic, salt and pepper. Cook for about 10 minutes, stirring occasionally. Add the tomato paste, mushrooms and another cup water. Put the lid on and cook for another half hour on medium-low heat.
Serve with any kind of rice.
Note: Make sure not to wash the mushrooms as they will retain water and lose texture. Instead, wipe off with a damp paper towel.
MacGourmet Rating: 4 Stars