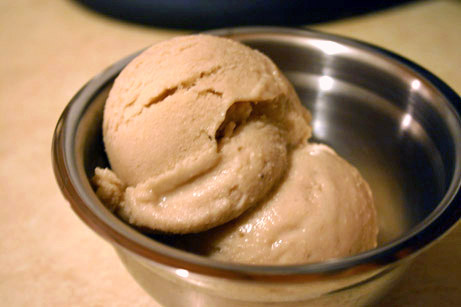 Banana-Honey Tofu Ice Cream
This post may contain affiliate links. Thank you for supporting the brands that keep me creative in my tiny kitchen!
I made this ice cream as a surprise for Dino after band practice. It's completely lactose free, and it's reeeeally good. The banana flavor is wonderful, and the honey makes it nice and sweet. Mixing everything up in the blender is a snap (i only did it in one batch – not two, as recommended) and you have some awesome soy ice cream in no time! I just went in the freezer to get a bowl tonight and it was already almost gone! This is definitely a great recipe to get your fruit and ice cream fix!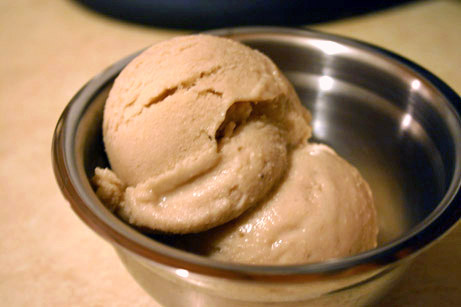 Banana-Honey Tofu Ice Cream
Vegetarian Times August 2000
½ lb. firm tofu, drained
1 cup plain soy milk
¼ cup honey
3 ripe bananas
1 ½ tablespoons vanilla extract
Pinch of salt
1. In blender, puree all ingredients in 2 equal batches until very smooth.
2. Pour mixture into ice cream maker and freeze according to manufacturer's directions. Serve right away or transfer to airtight container and freeze up to 3 days.
Nutritional notes:
Per 1/2-cup serving: Calories: 115, Protein: 3g, Total fat: 2g, Carbs: 22g, Cholesterol: mg, Sodium: 29mg, Fiber: 1g, Sugars: g
MacGourmet Rating: 5 Stars