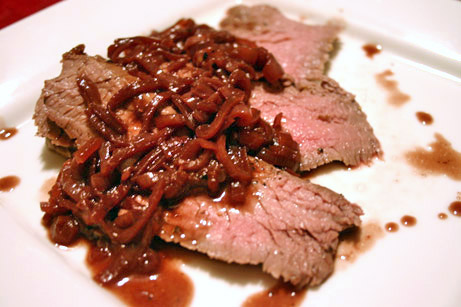 Grilled Flank Steak with Shallot and Red Wine Sauce
This post may contain affiliate links. Thank you for supporting the brands that keep me creative in my tiny kitchen!
I watched the first episode of Amy Finely's show a few days ago (she won the last season of The Next Food Network Star) and the meal that she made looked really great! Aside from the fact that the first thing out of her mouth was back to talking about living in France (c'mon…we all got SO sick of hearing about that!!) the recipes looked pretty easy. So I made the main dish from the episode tonight. It was really easy and really good. I'll definitely try out more of her recipes. I served it with some turnip greens (Sylvia's – with her kickin' hot sauce too!) and it was a great meal.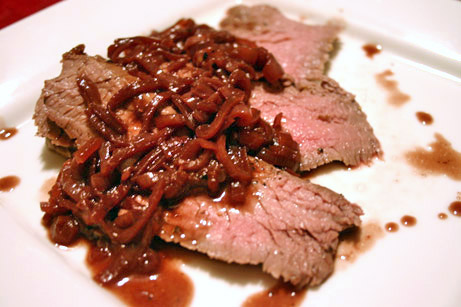 Grilled Flank Steak with Shallot and Red Wine Sauce
The Gourmet Next Door – Amy Finley
4 shallots, sliced in thin rings
4 tablespoons olive oil
1 cup red wine
1 cup beef broth
Salt and freshly ground black pepper
1 (1 1/2 pound) piece flank steak
1 tablespoon cold butter, in small chunks
Prep Time: 10 minutes
Inactive Prep Time: 10 minutes
Cook Time: 30 minutes
Yield: 4 servings
Special Equipment: A grill or grill pan
In a medium saucepan over medium-high heat, sauté the shallots in 2 tablespoons of the olive oil until lightly caramelized, about 5 to 7 minutes. Raise the heat to high and add the red wine and reduce by half. Add the broth and reduce by half. Check for seasoning, and season with salt and pepper, to taste. Keep warm on low heat.
Brush the flank steak on both sides with 2 tablespoons of the olive oil and season with the salt and pepper. Place on the center of grill and sear 5 to 8 minutes per side for rare to medium rare, testing by pressing the meat with a finger: The spongier the meat feels, the rarer it is cooked. Remove from the grill and allow to rest, very loosely tented with aluminum foil, 5 to 10 minutes, to allow the juices to reabsorb into the meat. Slice the flank steak on the diagonal and place on a large platter. Finish the sauce by swirling in the chunks of cold butter, then top the steak with some of the sauce and serve the rest on the side.
MacGourmet Rating: 4 Stars