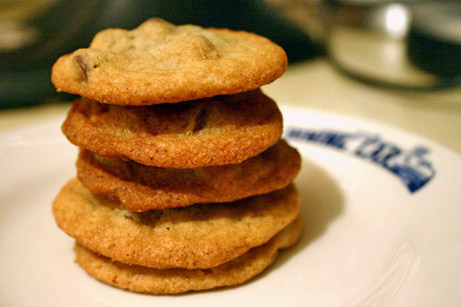 Ghirardelli Chocolate Chip Cookies
This post may contain affiliate links. Thank you for supporting the brands that keep me creative in my tiny kitchen!
I made these cookies as a surprise for Dino's department at work. From what I hear, they loved them WAY more than I thought they would, which is awesome! I got the recipe from the back of my bag of chocolate chips. I only had half a bag, so I made half the recipe, and didn't use nuts. They were superb straight out of the oven (and in dough form – not that I'd EVER lick the bowl to help with clean-up!) and they were great the next day.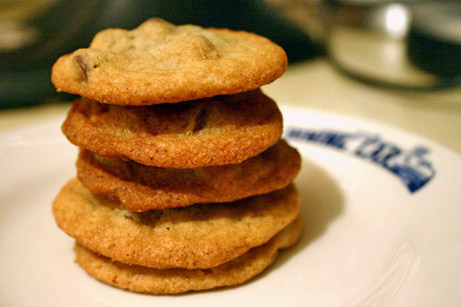 Ghirardelli Chocolate Chip Cookies
Ghirardelli
2 ¼ cups all-purpose flour
1 teaspoon baking soda
½ teaspoon salt
1 cup butter, softened
1 cup sugar
1 cup light brown sugar, packed
2 teaspoons vanilla extract
2 large eggs
2 cups Ghirardelli Semi-Sweet Chocolate Chips
1 cup walnuts or pecans, chopped (optional)
Preheat oven to 375°F. Stir flour with baking soda and salt; set aside. In a large mixer bowl, beat butter with sugar and brown sugar at medium speed until creamy. Add vanilla and eggs, one at a time, mix on low speed until incorporated. Gradually blend dry mixture into creamed mixture. Stir in chocolate chips and nuts. Drop by tablespoon onto ungreased cookie sheets. Bake for 9 to 11 minutes or until golden brown.
MacGourmet Rating: 5 Stars