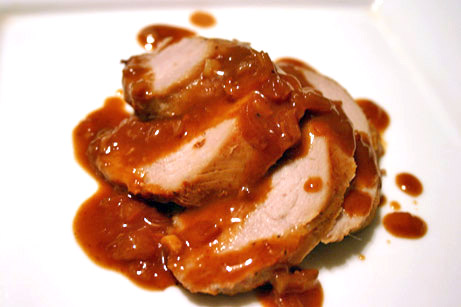 Honey-Gingered Pork Tenderloin
This post may contain affiliate links. Thank you for supporting the brands that keep me creative in my tiny kitchen!
I made this in the oven rather than on the grill and it was really tasty! The sauce is really potent, so don't pour too much on it. I think it would be even better if it was grilled, because the little bits at the end that got charred tasted WAY better than the rest – and the rest was really great! This is a very different take on a pork tenderloin with sauce, so it was a nice change of pace for us.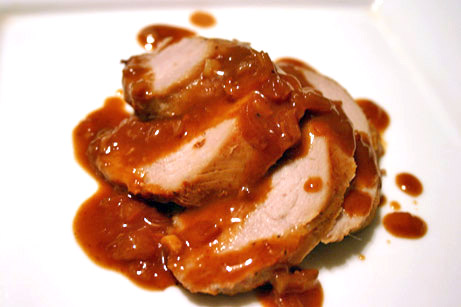 Honey-Gingered Pork Tenderloin
Iowa State Fair
4 servings
2 3/4-pound pork tenderloins
¼ cup honey
½ cup teriyaki sauce
⅓ cup Hoisin sauce
2 tablespoon plus 1 teaspoon minced peeled fresh gingerroot
2 tablespoon minced garlic
1 tablespoon ketchup
1 lime, juiced (approximately 2 tablespoons)
⅓ cup minced onion
½ teaspoon cayenne
¼ teaspoon cinnamon
Pat pork dry and arrange in a shallow dish. In a bowl whisk together all remaining ingredients and pour marinade over pork. Turn pork to coat well. Chill pork, covered, turning it once or twice, at least 8 hours and up to 1 day.
Prepare grill.
Remove pork from marinade, reserving marinade, and arrange on a lightly oiled rack set 5 to 6 inches over glowing coals. Grill pork, basting with reserved marinade and turning it every 3 minutes, 10 minutes total. Continue to cook pork, turning it every 3 minutes, until a thermometer diagonally inserted 2 inches into center of tenderloin registers 155°F., about 10 minutes more. This can be prepared in the oven at 425°F.
Meanwhile, boil reserved marinade to thicken and pour over pork as a sauce. Let pork stand 5 minutes before thinly slicing.
MacGourmet Rating: 4 Stars