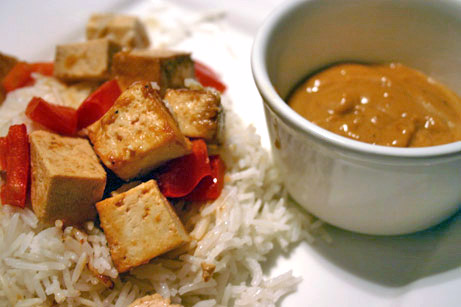 Grilled or Roasted Tofu Satay
This post may contain affiliate links. Thank you for supporting the brands that keep me creative in my tiny kitchen!
This recipe was AWESOME! I roasted the tofu and used the rest of the can of coconut milk in place of some of the water to cook my rice. Once you dip the tofu in the sauce, it's amazing! I'd say this is more like 4 servings – half a block of tofu each.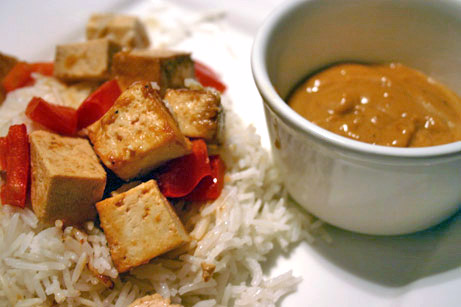 Grilled or Roasted Tofu Satay
Vegetarian Classics – Jeanne Lemlin
6 servings
The marinade:
2 tablespoons tamari soy sauce
2 tablespoons Asian sesame oil
2 tablespoons sherry
2 lbs. extra-firm tofu, sliced 1 inch thick and patted very dry, then cut into 1-inch cubes and patted again
1 red bell pepper, cut into 1-inch squares
The sauce:
¾ cup canned coconut milk (see Tip)
½ cup natural-style peanut butter, smooth or chunky
2 cloves, garlic minced
1 ½ teaspoons curry powder
1 ½ tablespoons brown sugar
1 tablespoon lime juice
1 tablespoon canola oil
1 ½ tablespoons tamari soy sauce
Dash cayenne pepper
Combine the marinade ingredients in a large bowl. Add the dry tofu and red pepper and toss gently with a rubber spatula to coat evenly. Let marinate 30 minutes or up to 8 hours. Refrigerate if longer than 1 hour.
Prepare the grill or preheat the oven to 450 degrees.
To make the sauce, place all the sauce ingredients in a food processor and blend until smooth. Pour into a decorative serving bowl.
Remove about 1/3 cup of the sauce and drizzle it over the tofu. Use the rubber spatula to toss the tofu gently with the sauce. If you are grilling the satay, thread the tofu and red peppers on skewers. (Bamboo skewers must be soaked for 30 minutes.) If you are roasting the tofu in the oven, place it in 1 layer in a large, shallow baking dish such as a 9 x 13-inch lasagna pan. Use 2 pans if one pan isn't large enough.
Cook the tofu on the hot grill at least 20 minutes, turning it occasionally, or roast in the oven for 25 minutes. The tofu is done when it is a deep golden brown. Let the tofu cool to room temperature before serving. Serve alongside a bowl of sauce for dipping.
Tip: Canned coconut milk sometimes separates so that there is a thick, pasty mass at the top of the can and thin liquid on the bottom. Also, if the can has been kept in a cool cupboard, the milk will appear solid rather than liquid. In either case, stir the coconut milk before measuring it. Once heated, the coconut milk will thin out.
MacGourmet Rating: 5 Stars