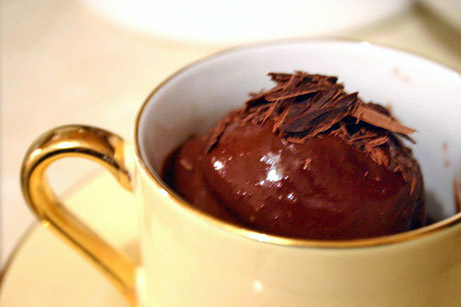 This post may contain affiliate links. Thank you for supporting the brands that keep me creative in my tiny kitchen!
This recipe was reeeeeally good, and Dino wanted to give it 5 stars, but I decided on 4 for a couple of reasons. First off, I don't understand why you would freeze something in an ice cream maker bowl without churning it. The instructions for mine (the KitchenAid attachment) say that you shouldn't do that because it freezes to the bowl and it's difficult to get out. Usually, you freeze the bowl for 12+ hours and make your base, put it in the bowl and churn with the KitchenAid mixer. Then you transfer it out of the bowl into a separate container for freezing. That makes sense. The directions didn't say to churn the sorbet, so I ended up with a huge chunk of frozen chocolate that took a bit to thaw enough to scoop (since it was surrounded with a SOLID block of ice). I'm curious to see what the original recipe from Dave Lebovitz said to do. Secondly, it was a little gritty. Fix those two things and you have a 5 star recipe, because this tasted AWESOME! And it's perfect if you want to serve it to someone who is lactose intolerant.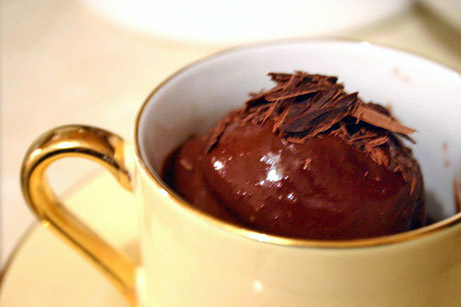 Sorbet Chocolat Noir
chocolateandzucchini.com (Adapted from The Perfect Scoop, by David Lebovitz)
1 cup + 2 tablespoons water
⅓ cup, packed unsweetened Dutch-process cocoa powder
½ cup sugar
3 ounces bittersweet chocolate (70% cocoa solids), chopped as finely as your patience allows
¼ teaspoon pure vanilla extract
A pinch of salt
Makes about 1/2 liter (1/2 quart); the recipe can be doubled.
Pre-freeze the bowl of your ice cream maker as instructed by your friend the manufacturer.
In a medium saucepan, whisk together the water, cocoa powder, and sugar. Set the pan over medium heat and bring to a boil, whisking continually. Remove from heat, and add the chopped chocolate. Let rest for 30 seconds as the chocolate begins to melt, add the vanilla and salt, then stir until the chocolate is completely melted. Let cool on the counter, then refrigerate until chilled.
Whisk the mixture again just before using, and freeze using your ice cream maker.
MacGourmet Rating: 4 Stars