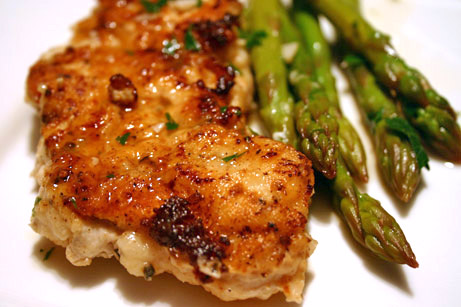 Chicken and Asparagus in White Wine Sauce
This post may contain affiliate links. Thank you for supporting the brands that keep me creative in my tiny kitchen!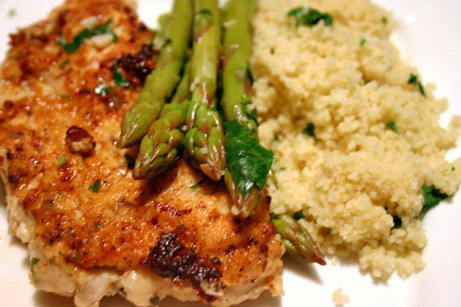 Friday night's dinner was pretty good. The chicken has great flavor and stays very moist. I was surprised at the amount of lemon flavor that came through from adding it at the end. I served it with some couscous that I cooked in vegetable broth with a little fresh parsley stirred in at the end.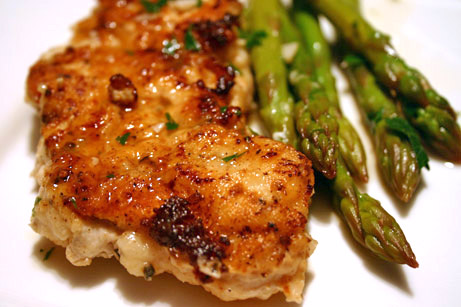 Chicken and Asparagus In White Wine Sauce
Cooking Light October 2007
4 (6-ounce) skinless, boneless chicken breast halves
¾ teaspoon salt
¼ teaspoon freshly ground black pepper
2 tablespoons butter
½ cup all-purpose flour (about 2 1/4 ounces)
½ cup dry white wine
½ cup fat-free, less-sodium chicken broth
2 cloves, garlic minced
1 lb. asparagus spears, trimmed
2 tablespoons chopped fresh parsley
1 tablespoon fresh lemon juice
This recipe works equally well with green beans or haricots verts in place of asparagus. Time: 40 minutes.
Place each chicken breast half between 2 sheets of heavy-duty plastic wrap; pound to 1/4-inch thickness using a meat mallet or small heavy skillet. Sprinkle chicken breasts evenly with salt and freshly ground black pepper.
Melt butter in a large nonstick skillet over medium-high heat. Place flour in a shallow dish. Dredge chicken in flour. Add chicken to pan; cook 3 minutes on each side or until done. Remove chicken from pan; keep warm. Add wine, broth, and garlic to pan, scraping pan to loosen browned bits; cook 2 minutes. Add asparagus; cover and cook 3 minutes or until asparagus is crisp-tender. Remove from heat; stir in parsley and juice. Serve asparagus and sauce with chicken.
4 servings (serving size: 1 chicken breast half, about 5 asparagus spears, and about 2 tablespoons sauce)
Nutritional information per serving:
CALORIES 289(25% from fat); FAT 8g (sat 4.2g,mono 2g,poly 0.8g); PROTEIN 43g; CHOLESTEROL 114mg; CALCIUM 59mg; SODIUM 648mg; FIBER 2.8g; IRON 4.3mg; CARBOHYDRATE 10.5g
MacGourmet Rating: 4 Stars