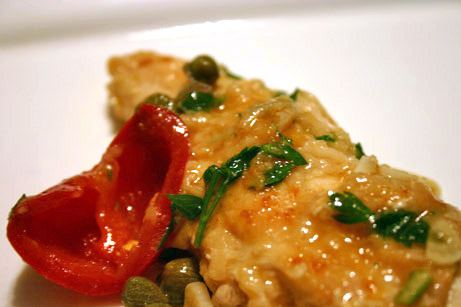 Skillet Chicken Breast Aglio E Olio
This post may contain affiliate links. Thank you for supporting the brands that keep me creative in my tiny kitchen!
Tonight's dinner was quick and simple. The peppers give it a nice kick, and the capers provide the right amount of saltiness. It's the first time I've cooked with hot cherry peppers, and I think I"ll do it more often now!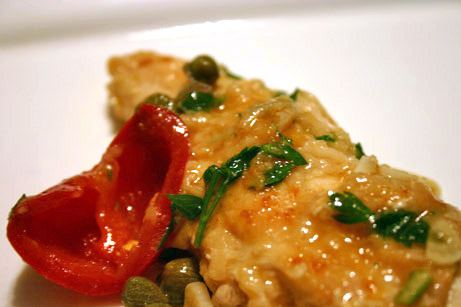 Skillet Chicken Breast Aglio E Olio
Cooking Light March 2006
Chicken benefits from the strong flavors of garlic, capers, and cherry peppers in the sauce for this dish. Taste the sauce before serving to be sure the flavors are balanced. You can use more or fewer capers to suit your taste. Breadcrumbs serve as a thickener, lending the sauce body and texture. Serve with green beans and rice.
6 6 ounce boneless skinless chicken breast halves
½ teaspoon salt, divided
⅓ cup all-purpose flour, (about 1 1/2 ounces)
1 tablespoon olive oil
2 tablespoons butter
8 cloves garlic, thinly sliced
2 tablespoons capers, (up to 3 tablespoons) drained
4 pickled hot cherry peppers, halved and seeded
1 cup organic vegetable broth, (such as Swanson Certified Organic)
1 tablespoon dry breadcrumbs
3 tablespoons chopped fresh flat-leaf parsley
Sprinkle chicken with 1/4 teaspoon salt. Dredge chicken in flour.
Heat oil and butter in a large nonstick skillet over medium heat. Add chicken; cook 4 minutes on each side or until browned. Add garlic; cook 30 seconds. Add capers and peppers; cook 30 seconds. Add broth; bring to a boil. Reduce heat, and simmer 5 minutes or until chicken is done. Stir in breadcrumbs; cook until liquid thickens (about 1 minute). Taste sauce, and add remaining 1/4 teaspoon salt, if needed. Remove from heat; sprinkle with parsley.
Serving size: 1 chicken breast half and about 2 1/2 tablespoons sauce.
Nutritional information per serving:
CALORIES 286 (27% from fat); FAT 8.5g (sat 3.3g, mono 3.3g, poly 0.9g); PROTEIN 40.9g; CHOLESTEROL 109mg; CALCIUM 42mg; SODIUM 831mg; FIBER 0.6g; IRON 2mg; CARBOHYDRATE 9.1g
MacGormet Rating: 4 Stars