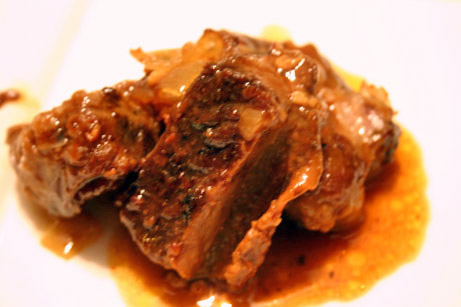 Slow-Cooker Beef Short Ribs | Roasted Pear and Potato Salad
This post may contain affiliate links. Thank you for supporting the brands that keep me creative in my tiny kitchen!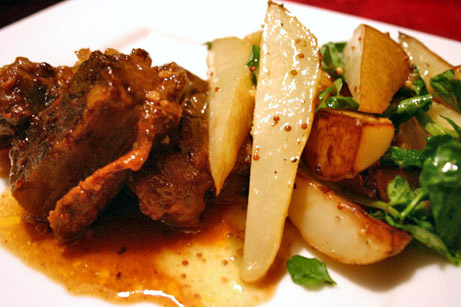 Thursday night's dinner was REALLY good. I broke out the slow cooker for another winner. I couldn't find boneless ribs but it didn't matter, the meat melted right off of the bones after slow cooking them. The sauce was really tasty, and it was really easy to make. I normally don't make slow-cooker recipes that require cooking before putting them in the slow cooker, but it was definitely worth it. The ribs didn't look pretty but the taste made up for it!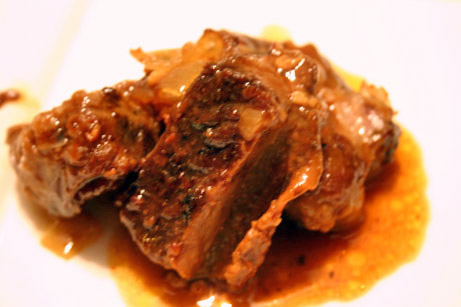 Slow-Cooker Beef Short Ribs
Recipezaar.com – MizzNezz
6 Servings
⅓ cup flour
1 teaspoon salt
¼ teaspoon pepper
2 ½ lbs. boneless beef short ribs
¼ cup butter
1 cup chopped onions
1 cup beef broth
¾ cup red wine vinegar
¾ cup brown sugar
¼ cup chili sauce
2 tablespoons catsup
2 tablespoons Worcestershire sauce
2 tablespoons minced garlic
1 teaspoon chili powder
1. Put flour, salt and pepper in a bag.
2. Add ribs and shake to coat.
3. Brown ribs in butter in a lg skillet.
4. Put in slow cooker.
5. In same skillet, combine remaining ingredients.
6. Bring to a boil, stirring.
7. Pour over ribs.
8. Cover and cook on low for 9 hours.
MacGourmet Rating: 5 Stars
---
The side dish was also really good. I loved the combination of pears and potatoes. I used baby Yukon Golds. The dressing had a really fresh taste that was nice with the hot salad. The watercress didn't really taste like anything to me – I think it would be better with arugula.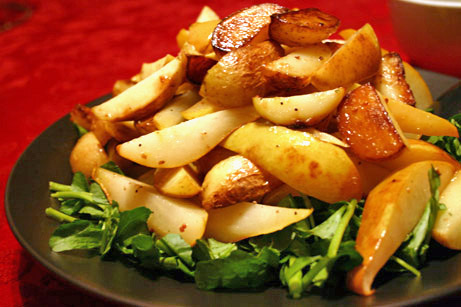 Roasted Pear and Potato Salad
Every Day with Rachael Ray October 2007
4 servings
Prep Time: 15 min
Cook Time: 25 min
7 tablespoons extra-virgin olive oil
1 ½ pounds yellow-fleshed potatoes, such as Yukon gold, quartered lengthwise and cut crosswise into 1-inch pieces
1 pound Forelle or Bosc pears, cut into eighths lengthwise and cored
4 sprigs thyme, plus 1 teaspoon leaves
salt and pepper
1 lemon, grated peel and juice
2 tablespoons honey
2 teaspoons grainy mustard
1 bunch watercress, trimmed
1. Preheat the oven to 450°. In a large, ovenproof skillet, heat 3 tablespoons olive oil over high heat. Add the potatoes, stir to coat and cook, stirring frequently, until lightly browned, about 8 minutes.
2. Add the pears, thyme sprigs, 1 teaspoon salt and 1/2 teaspoon pepper to the potatoes; stir to combine. Transfer the skillet to the oven and roast, tossing halfway through, until the potatoes and pears are tender, 12 to 15 minutes.
3. Meanwhile, in a small bowl, whisk together the lemon juice, honey, mustard and the remaining 1/4 cup olive oil; season with salt and pepper and set aside. Place the watercress in a shallow bowl or on a platter and set aside.
4. Remove the skillet from the oven and discard the thyme sprigs. Sprinkle the lemon peel and thyme leaves over the roasted pears and potatoes. Drizzle 3 to 4 tablespoons dressing on top and toss. Season with salt and pepper.
5. Spoon the pears and potatoes over the watercress and drizzle the remaining dressing over the greens.
MacGourmet Rating: 4 Stars