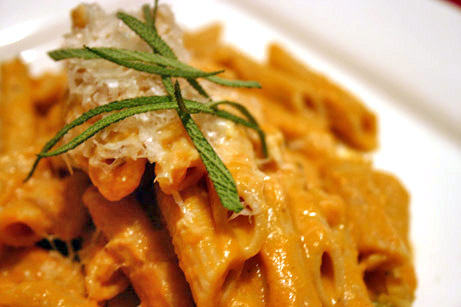 This post may contain affiliate links. Thank you for supporting the brands that keep me creative in my tiny kitchen!
I made this Wednesday night and served it with garlic toast. It was easy and pretty tasty! Just make sure that you put enough salt on it when you're serving it so that the flavors really pop. And leave it to Rachael to give a silly Halloween-inspired name to this one from the October issue of her magazine.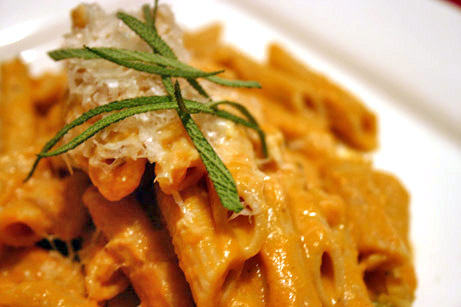 Penne-Wise Pumpkin Pasta
Every Day with Rachael Ray October 2007
6 servings
Salt
1 lb. whole wheat penne rigate
2 tablespoons extra-virgin olive oil (EVOO)
3 shallots, finely chopped
3 cloves garlic, grated
2 cups chicken broth
One 15-ounce can pure pumpkin puree
½ cup heavy cream
1 teaspoon hot pepper sauce
2 pinches ground cinnamon
1 pinch nutmeg
Pepper
7 leaves fresh sage, thinly sliced
Grated parmigiano-reggiano cheese, to pass around the table
1. Bring a large pot of water to a boil, salt it, add the pasta and cook until al dente. Drain.
2. While the pasta is working, in a medium skillet, heat the EVOO, 2 turns of the pan, over medium heat. Add the shallots and garlic and cook until softened, about 5 minutes. Stir in the chicken broth, pumpkin and cream. Add the hot sauce, cinnamon and nutmeg; season with salt and pepper. Lower the heat and simmer until thickened, about 5 minutes. Stir in the sage.
3. Toss the pasta with the sauce and pass the parmigiano-reggiano around the table.
MacGourmet Rating: 4 Stars