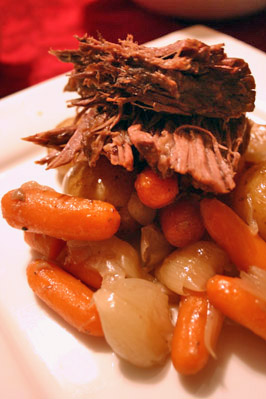 This post may contain affiliate links. Thank you for supporting the brands that keep me creative in my tiny kitchen!
I got the urge to make my mom's pot roast for the first time ever, so I called her and asked her for a recipe. After she got done laughing at me calling it a "recipe", she explained to me how she makes it. The amounts of everything are really flexible – add more or less depending what you like. I wanted to prep quickly, so I used a bag of baby carrots, a bag of baby yukon gold potatoes, and a bag of pearl onions. I also learned a trick about peeling pearl onions from the bag – drop them into boiling water for 3 minutes, cool, cut off the root end and push the other end to get the onion to slide right out of the peel) – this saved a LOT of time. I think I prefer larger onions though, so next time I'll probably throw in 3 or 4 onions instead of the pearls.
My roast was about 2.5 pounds and it took 3 hours to get tender enough, but it was well worth the wait. The only thing that I don't like about this recipe is that it means that fall is coming (which means that winter is sadly right around the corner).
This is what it looked like before it went into the oven (yes, the roast buried underneath all of those veggies):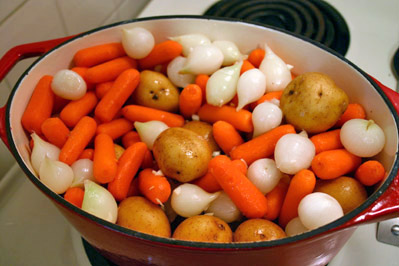 And this is my plate (which I later doused in gravy):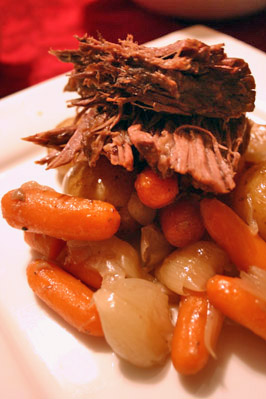 Pot Roast
Mom
chuck roast
small bag carrots, roughly chopped
2 white onions, whole if small or cut in half if large – or 1 bag pearl
2 cloves garlic, whole
4 potatoes, split down the middle lengthwise
1 cup water
olive oil, barely cover bottom of pan
salt & pepper to taste
flour, to coat top & bottom of roast
Preheat oven to 325°. Heat oil in Dutch oven on top of stove (Let oil get really hot to sear well). Flour and season both sides of roast. Sear on both sides. Lay garlic on top of meat and add rest of ingredients and cover. Bake for 2 – 3 hours (until you can stick a fork into the meat and it feels tender).
Use drippings to make gravy to go alongside.
MacGourmet Rating: 5 Stars