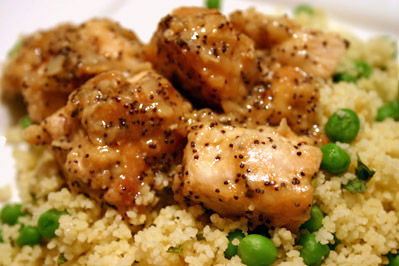 Lemon Poppy Chicken with Sweet Pea and Mint Couscous
This post may contain affiliate links. Thank you for supporting the brands that keep me creative in my tiny kitchen!
This dish was super flavorful. I thought the combination of flavors might be weird but they were really, really great. The only drawback is that it wasn't as good reheated for lunch the next day.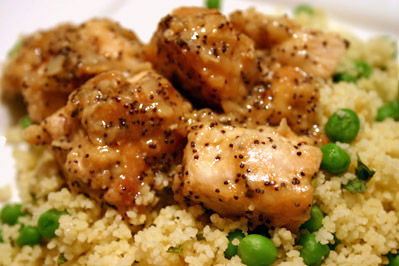 Lemon Poppy Chicken with Sweet Pea and Mint Couscous
Rachael Ray
2 ½ cups chicken stock, divided
1 box 10-ounce frozen peas
1 ½ cups couscous
3-4 tablespoons extra-virgin olive oil (EVOO)
1 cup flour
Salt and pepper
2 lemons zested, 1 juiced
1 ½ to 2 pounds boneless, skinless chicken breast cutlets, cut into bite-size pieces
2 cloves garlic
2 tablespoons butter
2 tablespoons poppy seeds
10 leaves of basil, chopped
10 leaves of mint, chopped
Place a medium-size saucepot over high heat and add 1 1/2 cups of the chicken stock. Bring to a boil then add the peas and the couscous. Place a lid on the pot and turn off the heat. Let sit for 5 minutes.
While the stock is coming up to a boil for the couscous, place a large skillet over high heat with 3 turns of the pan of EVOO, about 3-4 tablespoons. While the skillet is heating up, place the flour on a plate. Toss the chicken in the flour to coat, shaking off any excess. Add the chicken pieces to the hot skillet. Season the chicken liberally with salt, pepper and the lemon zest, and cook for 8-10 minutes, stirring every now and then to get them brown all over.
With a microplane or the smallest grade of a handheld box grater, grate in the garlic the last 2 minutes of cooking.
Once the chicken has browned, add the remaining cup chicken stock to the skillet. Once the stock is hot, add the butter and poppy seeds.
Stir until the butter has melted and the sauce has thickened up a bit, about a minute. Turn off the heat and squeeze the juice of 1 lemon into the pan.
Remove the lid from the pot of couscous, add the basil and mint and fluff with a fork. Place a portion of couscous on a plate and top with the chicken.
Yields 4 servings
MacGourmet Rating: 4 Stars