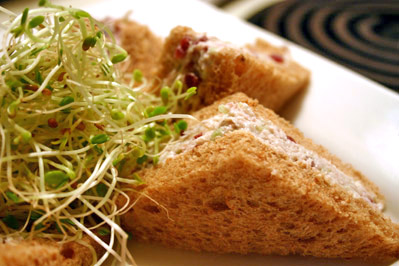 Turkey Salad Tea Sandwiches
This post may contain affiliate links. Thank you for supporting the brands that keep me creative in my tiny kitchen!
There's a tea house in my town that makes these AMAZING turkey salad sandwiches. One of the last times I was there, I asked the owner if she would mind telling me what was in the recipe. I guessed at what I thought was in there, and she told me I was right! So I went on the search for turkey cutlets so that I could make them at home and surprise Dino.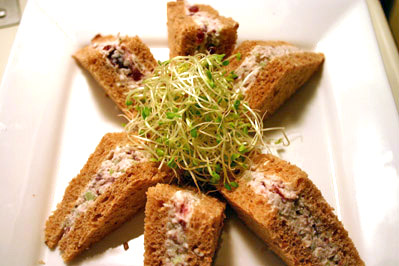 I boiled 4 turkey cutlets until they were cooked through. Then I drained them, let them cool, and threw them into the food processor until they were pretty finely chopped. I put them in a bowl with celery and craisins (that I also chopped in the food processor) and then mixed in Miracle Whip Light (like I do when I make chicken salad) until it was moist and held together. Then I cracked some black pepper into it and mixed it in. I buttered the bread (at the tea house, they use one slice of white and one of wheat to make them pretty – but we'd never use up 2 loaves of bread quickly in my house), spread the mixture on the slices, cut off the crusts and cut them into triangles. It turned out SO close to the way that the tea house makes it, and we LOVED it! They serve it with assorted veggies and olives, but I just put a nest of alfalfa sprouts in the middle, and had some fresh raspberries on the side. I just had leftovers today spread in a tortilla and ate it like a wrap and it was divine.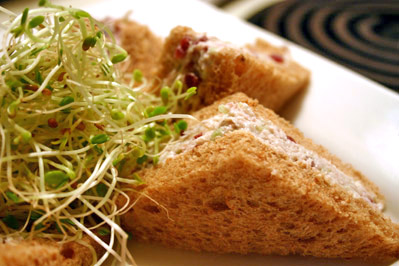 MacGourmet Rating: 5 Stars