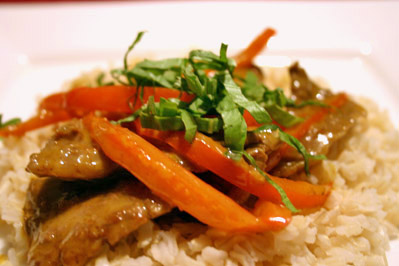 This post may contain affiliate links. Thank you for supporting the brands that keep me creative in my tiny kitchen!
I came across this website a few weeks ago and fell in love with the bento boxes that Ngoc makes. She really has some great ideas and lots of awesome recipes on there. This is the first one I tried and it didn't disappoint! I made it last night and had the leftovers for lunch today. It was creamy and delicious. I'll definitely be trying more of her recipes soon!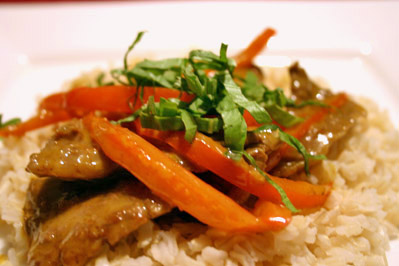 Red Beef Curry
cookingcute.com
3/4 lb. flank
1 red bell pepper
2 tbsp red curry paste
3 tbsp canola oil
1 can light coconut milk
1 tbsp brown sugar
2 tbsp fish sauce
1/4 tsp salt
1/4 cup roasted peanuts
1/4 cup fresh basil
1. Thinly slice the beef across the grain into strips about 2″ long. If the beef is too soft for thin slicing, throw it into the freezer for 15 minutes.
2. Heat the curry paste and oil in a large skillet over medium to medium-high heat. Cook the curry paste, mashing it and mixing it with the oil until well mixed and bubbling.
3. Add the beef slices and cook until the beef is lightly browned on all sides, about 3-4 minutes.
4. Add about 3/4 of the can of coconut milk and stir it in. Simmer for 10 minutes.
5. While the beef is simmering, coarsely chop the peanuts and thinly slice the basil leaves. Thinly slice the red bell pepper lengthwise.
6. After simmering for 10 minutes, add the fish sauce, brown sugar, salt, and chopped peanuts. Simmer for 3 minutes.
7. Add the red bell pepper strips. Simmer for another 2 minutes.
8. Serve over rice and garnish with the fresh basil slivers.
MacGourmet Rating: 4 Stars