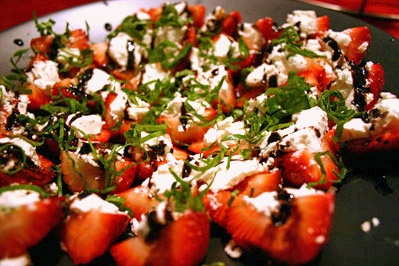 This post may contain affiliate links. Thank you for supporting the brands that keep me creative in my tiny kitchen!
I was driving home from work last week and I remembered that my mother-in-law had brought me some strawberries that I needed to use up. So I thought up an appetizer recipe and hoped that it would turn out as good as my mind told me it would. So I got home and tried it out, and it didn't disappoint! I've made it twice in two weeks and it went over really well!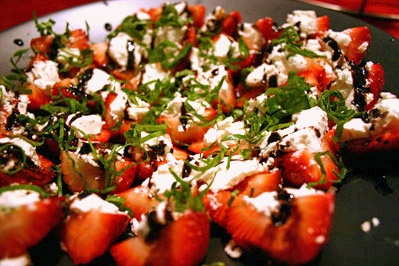 I don't have an exact recipe (or a title for that matter – suggestions?), but here's what I did. I sliced strawberries in half and smushed goat cheese on each. I reduced balsamic vinegar in a saucepan until it was thick. I drizzled it on top and garnished it with a chiffonade of fresh basil.
The sweetness of the strawberries, creaminess of the goat cheese, spiciness of the basil, and slight sweetness of the balsamic make a great combination. If you try this out, let me know. It's pretty quick and easy to make (although the smell of reducing vinegar can be overpowering while it's on the stove top), and it looks fancy enough to entertain with. I just put some small forks next to the platter to make it easier to eat (toothpicks probably wouldn't hold it right). I'd love to hear what you think of it!