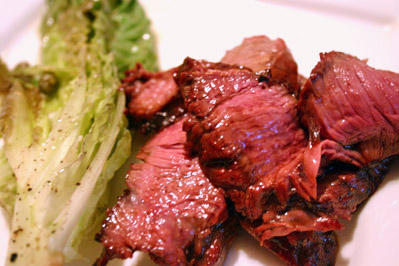 Beer and Brown Sugar Steak Marinade | Grilled Romaine
This post may contain affiliate links. Thank you for supporting the brands that keep me creative in my tiny kitchen!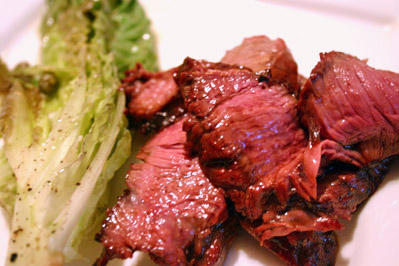 I looked up a steak marinade on allrecipes.com and got a nice steak from Stew Leonards. Dino says that this is the best steak he's ever had in his life. It was amazingly juicy and the flavor was divine. I highly recommend this one! It has over 100 5 star ratings on the site, and I'm adding mine to that!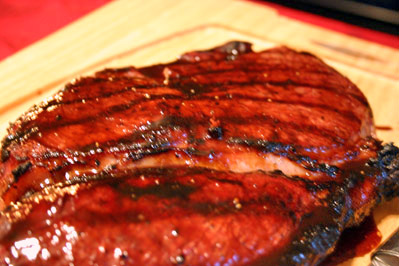 Beer and Brown Sugar Steak Marinade
allrecipes.com – Craig Jones
"I concocted this marinade on a lark and it turned out great. The flavors complement and do not overwhelm the natural taste of beef."
4 servings
PREP TIME 30 Min
COOK TIME 15 Min
READY IN 1 Hr 10 Min
2 (16 ounce) beef sirloin steaks
1/4 cup dark beer
2 tablespoons teriyaki sauce
2 tablespoons brown sugar
1/2 teaspoon seasoned salt
1/2 teaspoon black pepper
1/2 teaspoon garlic powder
1. Preheat grill for high heat.
2. Use a fork to poke holes all over the surface of the steaks, and place steaks in a large baking dish. In a bowl, mix together beer, teriyaki sauce, and brown sugar. Pour sauce over steaks, and let sit about 5 minutes. Sprinkle with 1/2 the seasoned salt, pepper, and garlic powder; set aside for 10 minutes. Turn steaks over, sprinkle with remaining seasoned salt, pepper, and garlic powder, and continue marinating for 10 more minutes.
3. Remove steaks from marinade. Pour marinade into a small saucepan, bring to a boil, and cook for several minutes.
4. Lightly oil the grill grate. Grill steaks for 7 minutes per side, or to desired doneness. During the last few minutes of grilling, baste steaks with boiled marinade to enhance the flavor and ensure juiciness.
MacGourmet Rating: 5 Stars
---
As for the side dish – let me start off by saying that I love Alton Brown. I love his style and his approach to cooking. But this is the second one of his recipes that I've made in the last year that's WAY too heavy on the vinegar. I couldn't figure out why it called for SO much vinegar for only one head of romaine, but I trusted him and made it as directed. The dressing was too potent. The idea was nice but it almost made me gag. But I really liked the grilled romaine, and I think I have more recipes that call for that, so I'll probably try out another recipe for it sometime.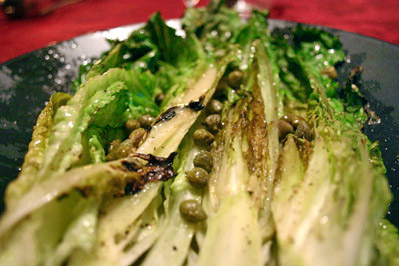 Grilled Romaine
I'm Just Here for the Food – Alton Brown
Software:
1 head romaine lettuce
Olive oil
Kosher salt and freshly ground black pepper
1 tablespoon capers
1 tablespoon Dijon mustard
1/2 cup apple cider vinegar
Hardware:
Tongs
Mixing bowl
Application: Grilling by direct heat
Heat up a charcoal grill. Quarter the romaine lengthwise so that the root keeps each piece together. Lightly coat with oil and season with salt and pepper. Mix together the capers, mustard, and vinegar. Lay the romaine on the grill, directly over the heat. Turn, with tongs, every few seconds until it begins to char and wilt (total grill time is about 1 minute). Remove to serving plates and spoon the vinegar mixture over each. Serve warm.
Yield 4 servings
MacGourmet Rating: 2 Stars