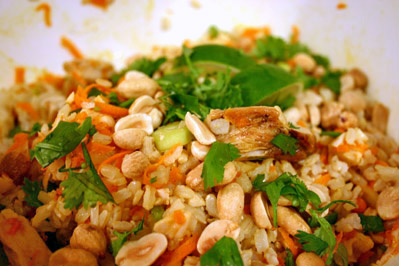 Sesame Brown Rice Salad with Shredded Chicken and Peanuts
This post may contain affiliate links. Thank you for supporting the brands that keep me creative in my tiny kitchen!
This is a great, healthy salad that holds up really well for leftovers. It's full of fresh flavors and tastes great either warm or cold.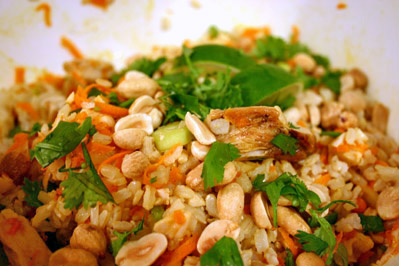 Sesame Brown Rice Salad with Shredded Chicken and Peanuts
Cooking Light June 2007
Cook the brown rice in plenty of water so it won't be sticky. Serve with lime wedges.
1 cup long-grain brown rice
2 cups shredded cooked chicken breast
1/2 cup shredded carrot
1/3 cup sliced green onions
1/4 cup dry-roasted peanuts, divided
1 tablespoon chopped fresh cilantro, divided
1/2 teaspoon salt
2 tablespoons fresh lime juice
4 teaspoons canola oil
1 teaspoon dark sesame oil
2 garlic cloves, minced
Cook rice according to package directions, omitting salt and fat. Transfer rice to a large bowl; fluff with a fork. Cool. Add chicken, carrot, onions, 2 tablespoons peanuts, 2 teaspoons cilantro, and salt to rice; toss to combine.
Combine juice and remaining ingredients in a small bowl. Drizzle oil mixture over rice mixture; toss to combine. Place 1 1/2 cups salad on each of 4 plates. Sprinkle each serving with 1 1/2 teaspoons remaining peanuts and 1/4 teaspoon remaining cilantro.
Yield 4 servings
Nutritional Information
CALORIES 393(30% from fat); FAT 13.3g (sat 2g,mono 6.3g,poly 4g); PROTEIN 27.8g; CHOLESTEROL 60mg; CALCIUM 44mg; SODIUM 424mg; FIBER 4g; IRON 1.7mg; CARBOHYDRATE 40.2g
MacGourmet Rating: 4 Stars