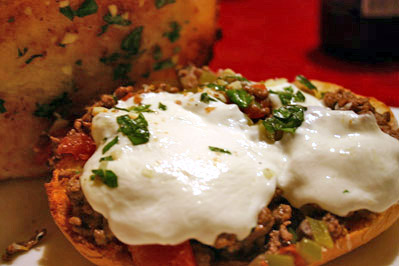 This post may contain affiliate links. Thank you for supporting the brands that keep me creative in my tiny kitchen!
This meal just wasn't for me. Dino liked it, so I'll give it an average rating, but I just found it to be a lot of work for sub-par results. I'm picky about hamburger dishes anyway, so that probably didn't help. The herb/garlic/butter mixture was nice though – I can see making cheesy garlic bread with it. But let me tell you, I'd go for my mom's sloppy joe recipe over this one ANY DAY!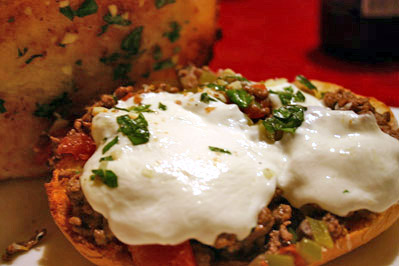 Messy Giuseppes
Express Lane Meals – Rachael Ray
2 tablespoons extra-virgin olive oil (EVOO)
1 lb. ground, 90 percent lean sirloin
1 green bell pepper, seeded and chopped
1 small onion, chopped
5 large garlic cloves, chopped
1 medium portobello mushroom cap, finely chopped
⅛ teaspoon (eyeball it) allspice
½ teaspoon crushed red pepper flakes
Coarse salt and black pepper
½ cup (a couple of glugs) red wine
¾ cup beef stock
1 tablespoon Worcestershire sauce
1 can 14-ounce crushed tomatoes
¼ cup (a generous handful) flat-leaf parsley, chopped
4 tablespoons (1/2 stick) unsalted butter, softened
5-8 fresh basil leaves, about 1/4 cup, chopped
¼ cup (a small handful) grated Parmigiano Reggiano or Romano cheese
4 individual ciabatta rolls or any kind of crusty hoagie rolls
1 ball fresh mozzarella cheese, cut into 8 slices
Preheat the broiler to high.
For the meat sauce, heat a deep skillet or a heavy-bottomed pot over medium-high heat with 2 tablespoons of EVOO, twice around the pan. Add the ground beef and cook until lightly browned, breaking up the meat with the back of a wooden spoon. Add green pepper, onion, 3/4 of the garlic, mushrooms, allspice, red pepper flakes and a little salt and pepper to the beef and cook for about 5-8 minutes.
Add the wine and cook another minute then add the beef stock, Worcestershie and tomatoes. Bring the mixture up to a bubble, reduce the heat to medium-low and gently simmer for 10 minutes. Finish it by stirring in a handful of chopped parsley.
While the meat is simmering, combine the remaining garlic with the soft butter, basil, parmesan cheese and a little salt and pepper in a mixing bowl. Split the rolls in half lengthwise without cutting all the way through and separating the halves. Press open the rolls by flattening them out a little bit. Slather the insides with the butter and place 2 slices of the mozzarella on each roll. Toast until golden brown under the broiler, about 2-3 minutes.
Top one side of the cheesy garlic rolls with a heap of meat.
Get prepared to get sloppy with Messy Giuseppe!
Yields 4 servings
MacGourmet Rating: 3 Stars