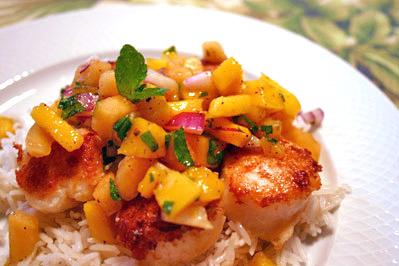 Seared Sea Scallops with Mango-Melon Salsa
This post may contain affiliate links. Thank you for supporting the brands that keep me creative in my tiny kitchen!
I'm trying sooo hard to like seafood. It's a challenge. I grew up in a home where seafood was never served, and the mention of it made people gag. I attribute it partially to being landlocked. Now that I live on the East Coast, I have fresher seafood available, and I've even ordered a tuna steak, spicy tuna roll, or fried calamari at restaurants on occasion. Then, a few weeks ago, I tried scallops at a friend's wedding. I fell in love. I wanted to try to cook it at home sometime, but was intimidated, since the whole seafood thing is still new to me. Then I stumbled upon this recipe over at Jaden's Steamy Kitchen.
After I wiped the drool off of my keyboard, I decided that I'd give it a try. I was amazed at how wonderful the texture of a raw scallop feels. I'm usually a little grossed out by raw meat (but that doesn't stop me from eating it!) but this just felt luscious. Anyhow, the meal came together pretty quickly, and Dino and my in-laws were all really impressed. It was a successful first attempt at cooking with one of my new favorite ingredients!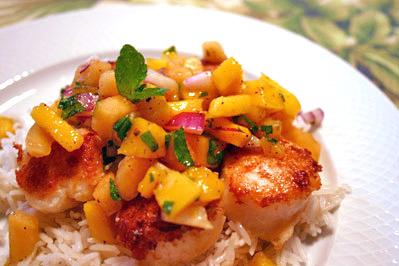 Seared Sea Scallops with Mango-Melon Salsa
Jaden's Steamy Kitchen
Use as much chili powder as you want – I love the tingling sensation after the initial sweetness of the fruit. If you don't care for spice, use a pinch of smoked paprika instead. Mint is so refreshing. Make sure you use fresh mint leaves, the dried flakes won't do. You can substitute with fresh basil, parsley or cilantro. The Mango-Melon Salsa is also great with tortilla chips, as a topping to grilled chicken, to serve alongside your favorite fish or shrimp skewers.
serves 4
20 large, dry-packed scallops, rinsed and patted dry
2 tablespoons parmesan cheese, grated powder-fine with rasp grater
Mango-Melon Salsa
¾ cup finely diced mango (1 mango should do)
½ cup finely diced cantaloupe
¼ cup finely diced red onion
2 tablespoons finely minced mint leaves
big pinch of chili powder (or substitute smoked paprika)
½ lime, squeezed
salt & freshly ground pepper to taste
1. Assemble the salsa and set aside to let the flavors meld and mingle while you prepare the scallops.
2. Tap the top and bottom of each scallop gently on the parmesan cheese, shake excess off. Heat 2 tablespoons of olive oil in a large, non-stick skillet over medium-high heat. Once the oil is hot, add the scallops. Make sure the scallops do not touch each other. Fry 2 minutes on each side, timing depends on size of your scallops. They should have a golden brown crust. If you take a peek in the interior, they should be rare-ish. They'll finish cooking on their own from residual heat after you remove them from the pan. Overcooked scallops are a sin!
MacGourmet Rating: 4 Stars