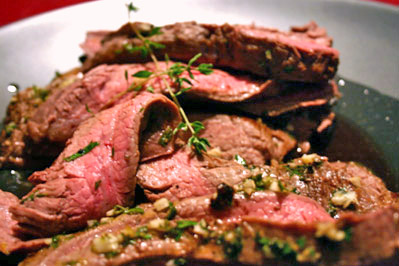 Roasted Flank Steak with Olive Oil-Herb Rub | Strawberry, Mint, and Goat Cheese Salad
This post may contain affiliate links. Thank you for supporting the brands that keep me creative in my tiny kitchen!
I'm glad that this dinner turned out to be so tasty, because I burned my hand really badly while making this steak. I pulled the pan out of the oven, and after i set it on the stovetop, I decided to move it over a little – forgetting that the handle was just in a 400°F oven. OOPS! I made it on Monday night and still don't have all the feeling back in my hand, but I'm OK. It was easy to make and really tasty!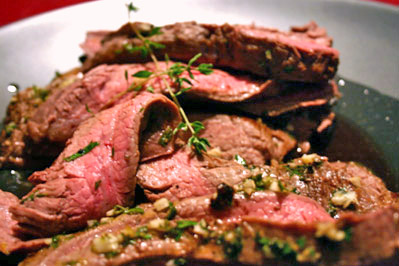 Roasted Flank Steak with Olive Oil-Herb Rub
Cooking Light April 2007
1 teaspoon chopped fresh thyme
1 teaspoon chopped fresh oregano
1 teaspoon chopped fresh parsley
2 teaspoons olive oil
⅛ teaspoon grated lemon rind
1 clove, garlic minced
½ teaspoon salt
¼ teaspoon freshly ground black pepper
1 (1 1/2-pound) flank steak, trimmed
Cooking spray
¼ cup dry red wine
¼ cup fat-free, less-sodium beef broth
Thyme sprigs (optional)
Preheat oven to 400°.
Combine first 6 ingredients in a small bowl; set aside.
Sprinkle salt and pepper over steak. Heat a large ovenproof skillet over medium-high heat. Coat pan with cooking spray. Add steak to pan; cook 1 minute on each side or until browned. Add wine and broth; cook 1 minute. Spread herb mixture over steak; place pan in oven. Bake at 400° for 10 minutes or until desired degree of doneness. Let stand 10 minutes before cutting steak diagonally across the grain into thin slices. Serve with pan sauce. Garnish with fresh thyme sprigs, if desired.
Yield 6 servings (serving size: 3 ounces steak and about 1 tablespoon sauce)
Nutritional information per serving:
CALORIES 167(38% from fat); FAT 7g (sat 2.5g,mono 3.3g,poly 0.4g); PROTEIN 23.9g; CHOLESTEROL 37mg; CALCIUM 21mg; SODIUM 266mg; FIBER 0.1g; IRON 1.6mg; CARBOHYDRATE 0.5g
MacGourmet Rating: 4 Stars
The side dish was fantastic! I served it over some arugula. The flavor combination surprised me…the mint cut through the balsamic, and the strawberries sweetened it perfectly. And I'm a sucker for goat cheese. I'll definitely be making this one again!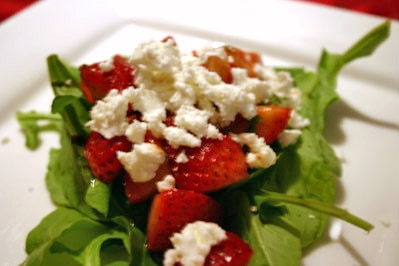 Strawberry, Mint, and Goat Cheese Salad
Cooking Light July 2007
3 cups quartered strawberries (about 1 pound)
1 tablespoon chopped fresh mint
1 tablespoon balsamic vinegar
¼ teaspoon freshly ground black pepper
½ cup (2 ounces) crumbled goat cheese
Combine quartered strawberries, chopped mint, balsamic vinegar, and black pepper; toss gently to combine. Cover and chill 1 hour. Sprinkle evenly with crumbled goat cheese. Serve immediately.
Yield 6 servings (serving size: about 1/2 cup)
Nutritional information per serving:
CALORIES 52(38% from fat); FAT 2.2g (sat 1.4g,mono 0.5g,poly 0.2g); PROTEIN 2.3g; CHOLESTEROL 4mg; CALCIUM 26mg; SODIUM 36mg; FIBER 1.6g; IRON 0.5mg; CARBOHYDRATE 6.3g
MacGourmet Rating: 5 Stars