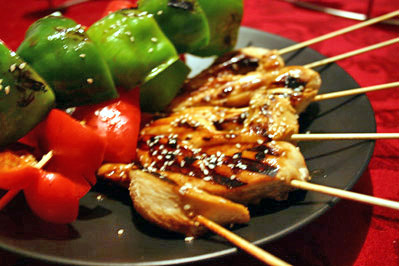 Chicken Skewers with Soy-Mirin Marinade
This post may contain affiliate links. Thank you for supporting the brands that keep me creative in my tiny kitchen!
The dish I made tonight gets a lot of flavor from a quick marinade. If I make this one again, I'll double the marinade so that I can reduce it into more sauce (we were dipping our chicken in the leftover sauce, and we could have used a a little more). It doesn't require too many ingredients, and was a great weeknight meal.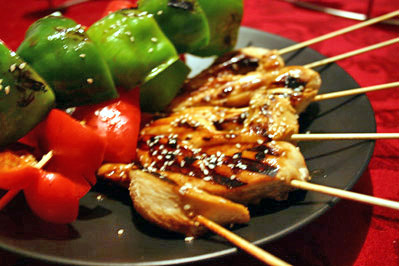 Chicken Skewers with Soy-Mirin Marinade
Cooking Light June 2007
⅓ cup mirin (sweet rice wine)
⅓ cup low-sodium soy sauce
1 teaspoon dark sesame oil
1 ½ lbs. skinless, boneless chicken breast halves, cut lengthwise into 1-inch strips
1 large red bell pepper, cut into 8 pieces
1 large green bell pepper, cut into 8 pieces
Cooking spray
2 tablespoons sesame seeds, toasted
3 cups hot cooked rice
Combine first 3 ingredients in a large bowl; add chicken to bowl, and toss to coat. Let stand 15 minutes, turning chicken occasionally.
Prepare grill.
Remove chicken from bag, reserving marinade. Place marinade in a small saucepan; bring to a boil. Cook until reduced to 1/4 cup (about 5 minutes). Thread chicken and bell peppers on 8 (12-inch) wooden skewers. Brush skewers with marinade. Place skewers on grill rack coated with cooking spray. Grill 4 minutes on each side or until done, brushing occasionally with remaining marinade. Remove from grill; sprinkle with sesame seeds. Serve with rice.
Yield 4 servings (serving size: 2 skewers and 3/4 cup rice)
Nutritional information per serving:
CALORIES 463(17% from fat); FAT 8.5g (sat 1.8g,mono 2.4g,poly 1.9g); PROTEIN 44.9g; CHOLESTEROL 108mg; CALCIUM 46mg; SODIUM 814mg; FIBER 3.1g; IRON 4.6mg; CARBOHYDRATE 44.5g
MacGourmet Rating: 4 Stars