I finally tried out the new ice cream maker attachment for my KitchenAid (thanks, Pop & Kasia!!) by making some green tea ice cream. It was WONDERFUL! I was a little skeptical about putting lemon in ice cream, but it definitely adds a nice tang to the dish. I found a ton of recipes for this stuff, but I wanted to go with something simple (plus it's from CL so I kinda felt better about making lots of sweets!). Now I have a lot of whole milk left, so I'm going to have to give another ice cream recipe a try. This could get dangerous!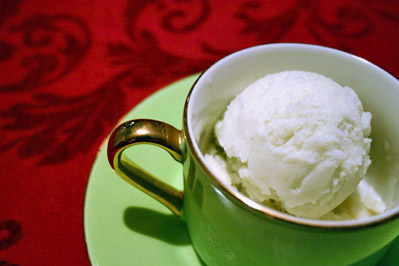 Green Tea Ice Cream
Cooking Light June 2002
1 ½ cups water
¾ cup sugar
2 tablespoons loose Chinese gunpowder green tea or green tea (about 3 tea bags)
4 teaspoons fresh lemon juice
1 ¼ cups whole milk
Combine water and sugar in a small saucepan; bring to a boil, stirring until sugar dissolves. Add tea; cover and steep 5 minutes. Strain tea mixture through a fine sieve into a bowl; discard tea leaves. Stir in lemon juice; chill completely.
Stir in milk. Pour mixture into the freezer can of an ice-cream freezer; freeze according to manufacturer's instructions. Spoon the ice cream into a freezer-safe container; cover and freeze 2 hours or until firm.
Yield 6 servings (serving size: 1/2 cup)
Nutritional information per serving:
CALORIES 143(12% from fat); FAT 1.9g (sat 1.1g,mono 0.6g,poly 0.1g); PROTEIN 3g; CHOLESTEROL 7mg; CALCIUM 73mg; SODIUM 28mg; FIBER 0.0g; IRON 0.9mg; CARBOHYDRATE 29.7g
MacGourmet Rating: 4 Stars