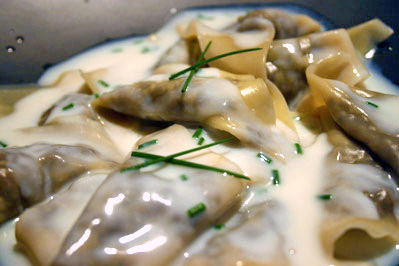 Mushroom Ravioli with Parmesan-Chive Sauce | Asparagus Ribbons with Lemon and Goat Cheese
This post may contain affiliate links. Thank you for supporting the brands that keep me creative in my tiny kitchen!
The main dish for tonight was excellent! The filling didn't really take too long to put together, and I was able to fill the wonton wrappers pretty quickly using my 2 teaspoon scoop (thanks, DMG!!). I didn't realize when I started that it only served two, or I would have doubled the recipe and frozen some instead of using half packages of mushrooms. Oh well. Dino and I both loved them, and I'll definitely make them again (and next time I'lll make extra to freeze, too!)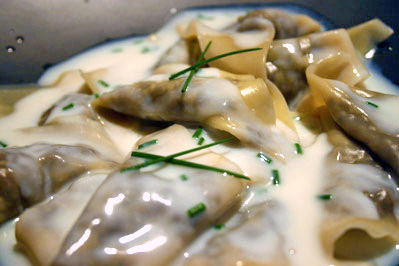 Mushroom Ravioli with Parmesan-Chive Sauce
Cooking Light June 2007
Ravioli:
½ package (8-ounce) button mushrooms
½ package (6-ounce) presliced portobello mushrooms
1 teaspoon olive oil
1 teaspoon butter
2 tablespoons finely chopped shallots
⅛ teaspoon salt
14 wonton wrappers
1 teaspoon cornstarch
Sauce:
½ cup 1% low-fat milk
1 tablespoon all-purpose flour
2 tablespoons grated fresh Parmesan cheese
1 tablespoon chopped fresh chives
⅛ teaspoon salt
Dash of freshly ground black pepper
Remaining ingredient:
Fresh chives (optional)
To prepare ravioli, place mushrooms in food processor; pulse 10 times or until finely chopped. Heat oil and butter in a large nonstick skillet over medium-high heat. Add shallots, and sauté for 2 minutes. Add mushrooms and 1/8 teaspoon salt; cook 5 minutes or until moisture evaporates, stirring occasionally.
Working with 1 wonton wrapper at a time (cover remaining wrappers with a damp towel to keep them from drying), spoon about 2 teaspoons mushroom mixture into center of each wrapper. Moisten edges of dough with water; bring 2 opposite corners together. Pinch edges together to seal, forming a triangle. Place ravioli on a large baking sheet sprinkled with cornstarch.
To prepare sauce, combine milk and flour in a small saucepan over medium-low heat; stir with a whisk. Cook 4 minutes or until slightly thickened, stirring frequently. Remove from heat; stir in cheese, 1 tablespoon chives, 1/8 teaspoon salt, and pepper. Set aside; keep warm.
Cook ravioli in boiling water 2 minutes or until tender. Drain. Serve with sauce. Garnish with fresh chives, if desired.
Yield 2 servings (serving size: 7 ravioli and 3 tablespoons sauce)
Nutritional information per serving:
CALORIES 334(22% from fat); FAT 8.2g (sat 3.5g,mono 3.3g,poly 0.8g); PROTEIN 17.3g; CHOLESTEROL 18mg; CALCIUM 410mg; SODIUM 896mg; FIBER 2.5g; IRON 3mg; CARBOHYDRATE 48.7g
MacGourmet Rating: 5 Stars
The side dish tonight was good but not great. I used fresh goat cheese that I picked up from the Farmers' Market over the weekend. I also couldn't find the large asparagus spears so I used the regular sized ones which was a big hassle to turn into ribbons.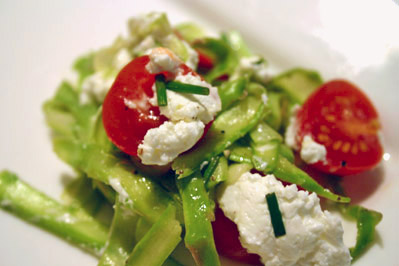 Asparagus Ribbons with Lemon and Goat Cheese
Cooking Light July 2007
1 lb. large asparagus spears, trimmed
1 ½ cups cherry tomatoes, halved
2 tablespoons finely chopped fresh chives
2 tablespoons fresh lemon juice
2 teaspoons extravirgin olive oil
½ teaspoon freshly ground black pepper
½ teaspoon Dijon mustard
¼ teaspoon sugar
¼ teaspoon salt
½ cup (2 ounces) crumbled goat cheese
Hold each asparagus spear by the tip end. Shave asparagus into ribbons with a vegetable peeler to measure 3 cups. Reserve asparagus tips for another use. Combine asparagus and tomatoes in a medium bowl.
Combine chives and next 6 ingredients (through 1/4 teaspoon salt), stirring with a whisk. Drizzle over the asparagus mixture, tossing gently to coat. Top with goat cheese.
Yield 8 servings (serving size: 1/2 cup)
Nutritional information per serving:
CALORIES 47(54% from fat); FAT 2.8g (sat 1.2g,mono 1.3g,poly 0.2g); PROTEIN 2.7g; CHOLESTEROL 3mg; CALCIUM 26mg; SODIUM 105mg; FIBER 1.4g; IRON 1.3mg; CARBOHYDRATE 3.7g
MacGourmet Rating: 3 Stars