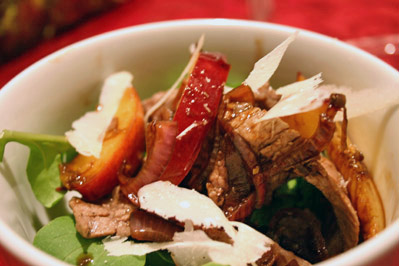 Sliced Steak with Nectarines and Arugula
This post may contain affiliate links. Thank you for supporting the brands that keep me creative in my tiny kitchen!
Tonight's dinner was the perfect end to a busy day. I love fruit, and I've been trying to make more salads (especially with all of the fresh produce that I'm finding at the farmers' markets!) so I picked this one from June's CL. It was delicious! The balsamic reduction was a great compliment to the fruit, and the parmesan added the right amount of saltiness. I'll definitely make this one again!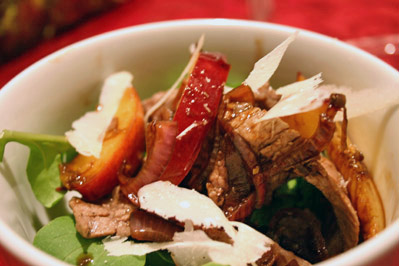 Sliced Steak with Nectarines and Arugula
Cooking Light June 2007
2 teaspoons olive oil
2 cloves, garlic crushed
1 (1 1/4-pound) flank steak, trimmed and cut into 1/8-inch-thick slices
1 teaspoon kosher salt
½ teaspoon black pepper
½ teaspoon crushed red pepper
1 bag (5-ounce) arugula
Cooking spray
⅓ cup thinly sliced shallots (about 1 large)
3 tablespoons balsamic vinegar
2 medium nectarines, pitted and cut into 1/4-inch wedges (about 2/3 pound)
4 teaspoons fresh lemon juice
1 ounce Parmigiano-Reggiano cheese, shaved into thin strips
Place oil and garlic in a large nonstick skillet over medium heat; cook 4 minutes or until garlic is lightly browned, stirring occasionally. Remove garlic with a slotted spoon, and discard. Increase heat to medium-high.
Sprinkle steak evenly with salt and peppers. Add steak to pan; sauté 1 minute or until desired degree of doneness. Transfer steak to a large bowl. Add arugula to bowl; toss well.
Wipe pan dry with a paper towel. Coat pan with cooking spray. Reduce heat to medium. Add shallots and balsamic vinegar to pan; cook 2 minutes or until shallots are soft, stirring occasionally. Add nectarine slices to pan; cook 30 seconds, tossing to coat. Add nectarine mixture and juice to steak mixture; toss gently. Serve with cheese.
Yield 5 servings (serving size: about 1 3/4 cups salad and 1 tablespoon cheese)
Nutritional information per serving:
CALORIES 248(33% from fat); FAT 9.1g (sat 3.6g,mono 4g,poly 0.6g); PROTEIN 27.5g; CHOLESTEROL 41mg; CALCIUM 142mg; SODIUM 534mg; FIBER 1.1g; IRON 2.3mg; CARBOHYDRATE 14g
MacGourmet Rating: 4 Stars