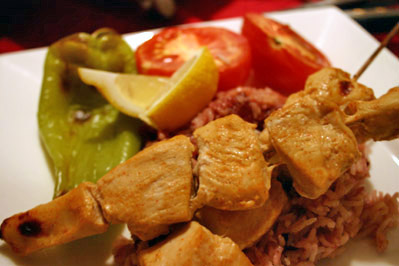 Persian Sour Cherry Saffron Rice | Chicken Shish Kebab (Tavuk Sis Kebap)
This post may contain affiliate links. Thank you for supporting the brands that keep me creative in my tiny kitchen!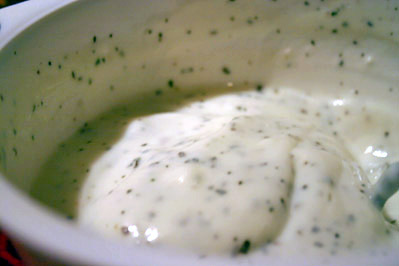 I had been seeking out a recipe for sour cherry rice for quite some time when I stumbled upon what has now become one of my favorite food blogs. In her post, she asked people to guess what was in her rice. I knew exactly what it was, and was thrilled to find a recipe for it! I paried it with a chicken kebab recipe from another food blog that I frequent, whipped up some yogurt (I add mint, honey, salt, pepper, and a little lemon juice) and warmed some pitas and made a wonderful surprise meal for Dino for our one month anniversary. Hey, after dating for over 7 years, it's fun to have new anniversaries to whip up surprises for 🙂 And it paid off – he said that he felt like he was back in our favorite Persian restaurant in NYC.
Persian Sour Cherry Saffron Rice
Jaden's Steamy Kitchen (WordPress)
1 jar 24-oz of sour cherries in light syrup (or 1 can sour pie cherry, light syrup), drained and syrup reserved
½ teaspoon saffron, soaked in 2 tablespoons hot water
3 cups basmati rice
½ cup butter, melted (I use clarified butter, but regular butter will
work)
1 cup sugar
Drain your cherry syrup directly into a small saucepan. You'll boil this syrup down later.
1. Soak the rice: Wash and soak the basmati rice in water for 2 hours. This step is not totally necessary, but it does produce a more tender rice.
2. Make the rice: Drain the rice. Fill a large pot with water and boil. Add the rice and boil on medium heat for 8 minutes exactly. Drain the rice and rinse with cool water to stop the cooking. Drain.
In the same pot over high heat, add half of the butter. When hot:
Add half of the drained rice
Pour half of the saffron+soaking water over the rice
Stir a bit
Add half of the drained cherries
Add remaining rice
Pour rest of saffron+ soaking water
Add remaining butter
Stir just this layer a bit
Add the remaining drained cherries
*Traditionally, this is done in a pyramid shape. I'm not coordinated enough to handle that request. The wider the pan you have, the more crusty rice crust you get.
Wrap your lid with a thin kitchen towel and cover the pot. This helps the steam stay in the pot, which is important because you aren't adding any additional liquid to the pot. Cook on high for 10 minutes (to create a nice crunchy crust). Turn heat down to super-low for 20 minutes. Turn off heat and let sit for 5 minutes.
3. Make the syrup: While rice is cooking, cook syrup + 1 cup sugar over medium heat for 30 minutes until it reduces down to a sweet, sticky syrup. Set aside.
4. Serve: When the rice is done, drizzle 1/2 cup of the syrup over the rice. See the nice crust of rice at the bottom of the pan? Its well known that household bribery, deception and wars have erupted over who gets to eat that part!
MacGourmet Rating: 5 Stars
For the kebabs, I followed the recipe except for a few things – I used 1 1/2 teaspoons cayenne (I didn't see the difference between that and red pepper powder), and I couldn't find pomegranate paste, so I used pomegranate molasses. It was divine!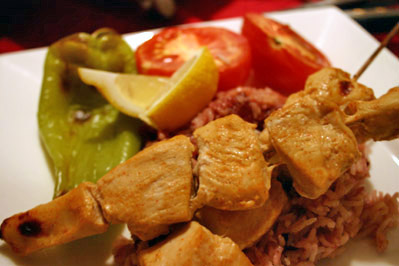 Chicken Shish Kebab (Tavuk Sis Kebap)
Binnur's Turkish Cookbook
350 gr chicken breast, boneless, cut in medium sized cubes
2 large tomatoes, cut in halves
2 cubanelle pepper
Marinade:
½ cup plain yogurt
½ teaspoon cumin
1 teaspoon red pepper, powder
½ teaspoon cayenne pepper
1 clove, garlic smashed with salt
1 teaspoon pomegranate paste
2 tablespoons olive oil
Marinate the chicken overnight in the fridge in a container with a lid. Bring the chicken to room temperature one hour before grilling. Divide up the chicken cubes and place on four skewers.
Preheat the barbecue or oven (grill). Place the skewers on the rack along with the peppers, tomato halves (inside up). Keep the marinade aside. Grill the chicken for about 7-8 minutes. Make sure to turn the skewers so that all sides are cooked equally. Every time you turn the chicken, brush with marinade.
Serve the Chicken Kebab on Turkish Rice Pilaf, lemon wedges, roasted tomatoes and Cubanelle peppers (remove the skin).
Makes 2 servings.
MacGourmet Rating: 5 Stars