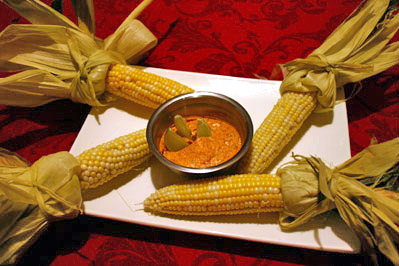 Grapefruit Chicken Satay Salad | Roasted Corn with Chili-Lime Butter
This post may contain affiliate links. Thank you for supporting the brands that keep me creative in my tiny kitchen!
Things have been really busy both at work and at home lately, so I'm way overdue for an update. I made these two recipes last week and we really enjoyed them.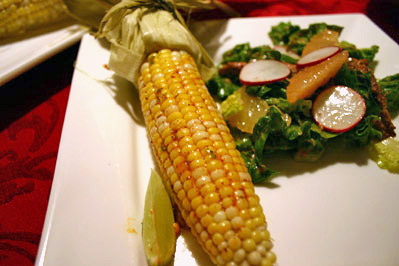 This salad was the first thing that Dino and I really disagreed on as far as ratings go. If MacGourmet let me do half stars, this one would have gotten a 4.5, because Dino wanted to give it a 5, but I wasn't THAT wowed with it. I used some fresh ruby red grapefruits from the farmers' market and it was a great contrast to the peanut butter. It was also a great way to get a lot of veggies into a meal.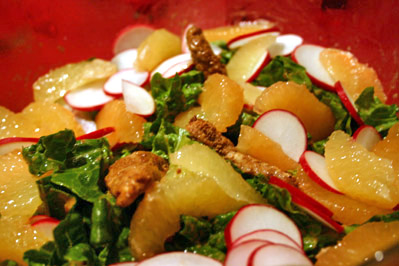 Grapefruit Chicken Satay Salad
Eating Well
2 large pink or ruby-red grapefruits
1 lb. boneless skinless chicken breasts, cut into 1⁄4-inch-thick strips
1 teaspoon dry mustard
1 teaspoon garlic powder
1 teaspoon ground cinnamon
1 teaspoon ground coriander
1 teaspoon ground ginger
1 teaspoon freshly ground pepper
1⁄ 2 teaspoon salt
1⁄ 4 cup smooth natural peanut butter
2 tablespoons reduced-sodium soy sauce
1 teaspoon sugar
1⁄ 4 teaspoon hot sauce, or to taste
8 cups roughly chopped romaine lettuce (about 2 hearts)
1 cup sliced radishes (about 8 radishes)
1. With a sharp knife, remove the peel and white pith from grapefruits and discard. Cut the grapefruit segments from the surrounding membranes, letting them drop into a small bowl. Working over a large bowl, squeeze the remaining membranes to extract the juice. Set the segments and juice aside separately.
2. Position rack in upper third of oven; preheat broiler. Line a broiler pan or baking sheet with foil.
3. Toss chicken, dry mustard, garlic powder, cinnamon, coriander, ginger, pepper and salt in a large bowl until the chicken is well coated. Place on the prepared pan in a single layer.
4. Broil the chicken until cooked through, about 5 minutes.
5. Meanwhile, whisk peanut butter, soy sauce, sugar and hot sauce into the reserved grapefruit juice until smooth. Add the cooked chicken and lettuce; toss to combine. Serve the salad topped with radishes and the reserved grapefruit segments.
Makes 4 servings, about 2 cups each
Nutritional information per serving:
Per serving: 310 calories; 12 g fat (2 g sat, 1 g mono); 63 mg cholesterol;24 g carbohydrate; 30 g protein; 6 g fiber; 641 mg sodium; 730 mg potassium. Nutrition bonus: Vitamin A (160% daily value), Vitamin C 120% dv), Folate (45% dv), Potassium (21% dv), Iron (20% dv). 1 Carbohydrate Serving Exchanges: 1 fruit, 1 vegetable, 3 very lean meat, 2 fat
MacGourmet Rating: 4 Stars
The side dish was a really different take on corn on the cob. Unfortunately, the corn that I got the first time wasn't that great, but I made it again with a new batch of corn a few days later to use up the extra butter and it was really tasty. It's a really easy way to cook corn, and it definitely keeps it tender. It also looks great if you actually tie the husks like Tyler suggests.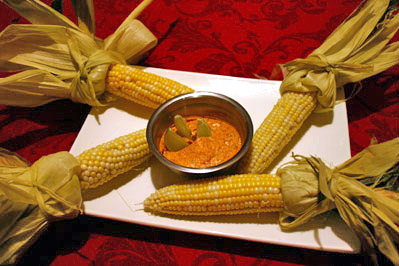 Roasted Corn with Chili-Lime Butter
Tyler Florence
Difficulty: Easy
Prep Time: 5 minutes
Cook Time: 40 minutes
Yield: 6 servings
6 ears fresh corn, unhusked
¼ lb. butter (1 stick), room temperature
2 teaspoons chili powder
1 lime, zested
1 lime, cut into wedges
Preheat oven to 350 degrees F.
Place the corn in its husks directly on the oven rack and roast until the corn is soft when you press on it, 30 to 40 minutes.
While the corn is roasting, combine the butter with the chili powder and lime zest.
Peel down the husks and tie in a knot to use as a handle while eating. Rub the corn with soft butter mixture, and garnish with a lime wedge. (This roasting method produces the sweetest corn I have ever tasted.)
MacGourmet Rating: 4 Stars