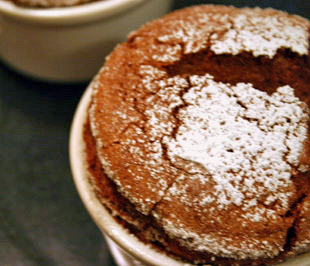 Individual Chocolate Soufflé Cakes
This post may contain affiliate links. Thank you for supporting the brands that keep me creative in my tiny kitchen!
I made these last night, and for some reason, they took more than twice as long as the recipe stated to bake. I'm withholdinig a MacGourmet Rating until I figure out exactly how long they should take, and what went wrong. The flavors were good, but it was not a successful first attempt at making a soufflé.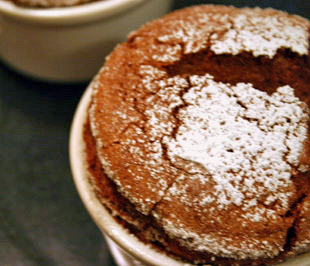 Individual Chocolate Soufflé Cakes
Cooking Light April 2007
To serve four, use five teaspoons flour and double the remaining ingredients. Doubling the flour would make the base too heavy.
Cooking spray
4 ½ tablespoons granulated sugar, divided
1 tablespoon all-purpose flour
1 ½ tablespoons Dutch process cocoa
2 tablespoons fat-free milk
¼ teaspoon vanilla extract
1 large egg white
1 teaspoon powdered sugar
Preheat oven to 350°.
Coat 2 (6-ounce) ramekins with cooking spray; sprinkle each with 3/4 teaspoon granulated sugar.
Combine 2 tablespoons granulated sugar, flour, cocoa, and milk in a small saucepan over medium heat. Cook 2 minutes, stirring until smooth. Spoon chocolate mixture into a medium bowl; cool 4 minutes. Stir in vanilla.
Place egg white in a medium bowl; beat with a mixer at high speed until soft peaks form. Add remaining 2 tablespoons granulated sugar, 1 teaspoon at a time, beating until stiff peaks form (do not overbeat). Gently stir 1/4 of egg white mixture into chocolate mixture; gently fold in remaining egg white mixture. Spoon mixture into prepared dishes. Sharply tap dishes 2 or 3 times to level. Place dishes on a baking sheet; bake at 350° for 15 minutes or until puffy and set. Sprinkle each soufflé with 1/2 teaspoon powdered sugar. Serve immediately.
Yield: 2 servings (serving size: 1 soufflé)
Nutritional information per serving:
CALORIES 152 (4% from fat); FAT 0.6g (sat 0.3g,mono 0.2g,poly 0.0g); PROTEIN 3.5g; CHOLESTEROL 0.31mg; CALCIUM 26mg; SODIUM 35mg; FIBER 1.4g; IRON 0.8mg; CARBOHYDRATE 35.3g