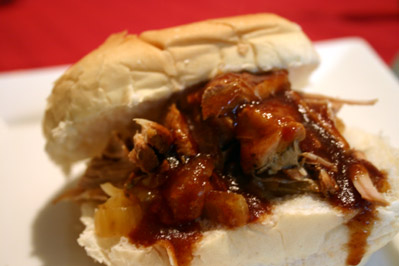 Pulled Pork with Root Beer Sauce
This post may contain affiliate links. Thank you for supporting the brands that keep me creative in my tiny kitchen!
Dino rarely has special requests for dinner, but last week he asked me to make this recipe again. I made it a year or 2 ago when I first got introduced to the wonderful world of slow-cooker cooking. It's a GREAT recipe and it makes a lot. I don't bother browning the meat, and I don't put any toppings on the sandwiches – just the meat and the sauce.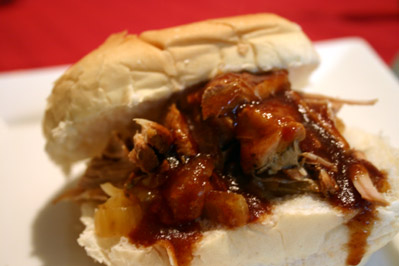 Pulled Pork with Root Beer Sauce
Better Homes and Gardens New Cook Book Limited Edition
1 2 1/2 – 3 pound pork sirloin roast
½ teaspoon salt
½ teaspoon black pepper
1 tablespoon cooking oil
2 medium onions
1 cup root beer
2 tablespoons garlic, minced
3 cups (two 12-ounce cans or bottles) root beer
1 cup bottled chili sauce
¼ teaspoon root beer concentrate, (optional)
several dashes bottled hot pepper sauce, (optional)
8-10 hamburger buns, split (toasted, if desired)
lettuce leaves, (optional)
tomato slices, (optional)
1. Trim fat from meat. If necessary, cut meat to fit into a 3 1/2 – 5-quart slow cooker. Sprinkle meat with salt and pepper. In a large skillet brown meat on all sides in hot oil. Drain off fat. Transfer meat to cooker. Add onions, the 1 cup root beer, and garlic.
2. Cover and cook on low-heat setting for 8 to 10 hours or on high-heat setting for 4 to 5 hours.
3. Meanwhile, for sauce, in a medium saucepan combine the 3 cups of root beer and the chili sauce. Bring to boiling; reduce heat. Boil gently, uncovered, stirring occasionally, about 30 minutes or until mixture is reduced to 2 cups. If desired, add root beer concentrate and hot pepper sauce.
4. Transfer meat to a cutting board or serving platter. Using a slotted spoon, remove onions from cooking juices and place on a serving platter. Discard juices. Using 2 forks, pull meat apart into shreds. To serve, if desired, line buns with lettuce leaves and tomato slices. Add meat and onions; spoon on sauce.
Note: Do not use diet root beer.
Nutrition Facts per serving: 433 cal., 12 g total fat (3 g sat. fat), 89 mg chol., 877 mg sodium, 45 g carbo., 3 g fiber, 35 g pro. Daily Values: 4% vit. A, 14% vit. C, 10% calcium, 17% iron Exchanges: 2 Starch, 1 Other Carbo., 4 Lean Meat
MacGourmet Rating: 5 Stars