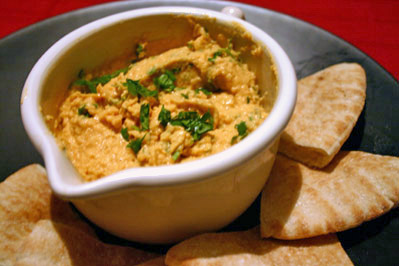 Lemony Chickpea Dip | Almond-Crusted Chicken Tender Salad
This post may contain affiliate links. Thank you for supporting the brands that keep me creative in my tiny kitchen!
This recipe came out of the current issue of CL, and I thought it sounded like an interesting variation on hummus. It was really good! It was different enough to not feel like hummus, but still had that wonderful texture. We dipped pitas in it, and I'm sure it'll be making an appearance on some sandwiches for lunch this week, too.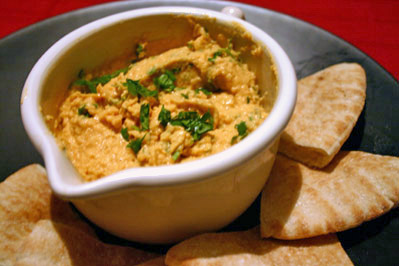 Lemony Chickpea Dip
Cooking Light May 2007
Canned chickpeas offer fiber; rinsing and draining them reduces sodium. A spoonful of oil balances the spices and hot sauce and adds unsaturated fats. We liked this dip with torn whole wheat pitas, crisp bell peppers, and celery sticks, but it works double-duty as a sandwich spread.
⅓ cup fat-free sour cream
¼ cup water
2 tablespoons fresh lemon juice
1 tablespoon olive oil
½ teaspoon ground cumin
½ teaspoon hot paprika
½ teaspoon hot sauce
¼ teaspoon salt
1 can (19-ounce) chickpeas (garbanzo beans), rinsed and drained
2 cloves, garlic peeled
2 tablespoons chopped fresh cilantro
Combine all ingredients except cilantro in a food processor; process until smooth. Transfer chickpea mixture to a bowl. Stir in cilantro.
Yield: 1 1/2 cups (serving size: 2 tablespoons dip)
Nutritional information per serving:
CALORIES 40(38% from fat); FAT 1.7g (sat 0.2g,mono 1g,poly 0.4g); PROTEIN 1.3g; CHOLESTEROL 0.0mg; CALCIUM 15mg; SODIUM 115mg; FIBER 1.2g; IRON 0.4mg; CARBOHYDRATE 5.3g
MacGourmet Rating: 4 Stars
For tonight's main course, I picked a salad recipe that was on an ad for the teriyaki sauce that we always have on hand in the same issue of CL. We buy the low sodium kind, and it turned out to be a very simple and flavorful salad. I didn't have any Panko on hand, so I used plain breadcrumbs and it was still really good. I put the chicken over baby spinach. It was a very light and satisfying meal.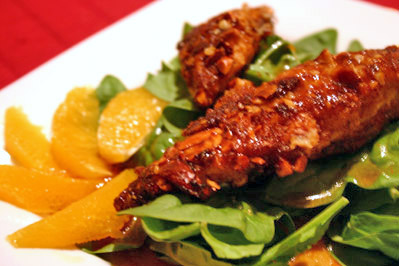 Almond-Crusted Chicken Tender Salad
yourteriyaki.com
** dressing ingredients **
¼ cup Kikkoman Teriyaki Marinade & Sauce
¼ cup olive oil
2 tablespoons honey
2 tablespoons vinegar
1 teaspoon orange peel, freshly grated
**salad ingredients**
1 pound chicken breast tenders
freshly ground black pepper
1 egg
½ cup all purpose flour
½ cup Kikkoman Teriyaki Marinade & Sauce
½ cup smoked almonds, finely chopped
½ cup Panko breadcrumbs
2-3 tablespoons vegetable oil
6 cups mixed baby salad greens
2 oranges, peeled and cut into segments
Orange-teriyaki-honey dressing:
Whisk together teriyaki sauce, olive oil, honey, vinegar and orange peel.
Chicken salad:
1. Season chicken tenders with pepper. Beat egg with teriyaki sauce in shallow bowl until well blended.
2. Place flour in shallow dish. Combine bread crumbs and almonds in another shallow dish.
3. Dust both sides of chicken with flour, then dip into egg mixture and finally coat with almond mixture.
4. In 12-inch skillet, heat 2 tbsp vegetable oil over medium-high heat. Add chicken and cook 6 to 7 minutes, or until no longer pink in center, turning over once and adding more oil as needed.
5. Divide salad greens among 4 dinner plates. Arrange chicken and orange segments on greens. Serve with orange-teriyaki-honey dressing.
Serves 4
MacGourmet Rating: 4 Stars