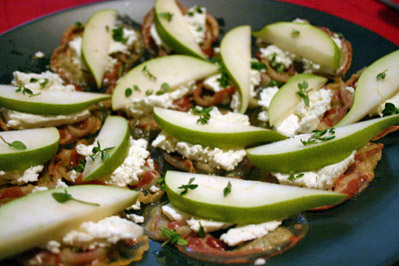 Pancetta Crisps with Goat Cheese | Linguine with Asparagus
This post may contain affiliate links. Thank you for supporting the brands that keep me creative in my tiny kitchen!
I saw that this appetizer recipe got rave reviews over on the CLBB, so I just had to try it. OMG…it's SOOO good! If MacGourmet let me rate things over 5 stars, this would be the first appetizer recipe to qualify for that! It was ridiculously easy to throw together and so tasty. You get a mix of creamy, crispy, salty, and sweet all in one (or two) bites. All I can say is WOW. This one would be perfect to whip up when entertaining, although I don't know how you could resist not eating them all yourself before your guests got there.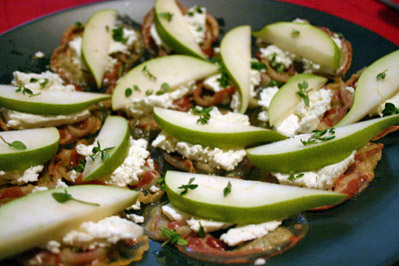 Pancetta Crisps with Goat Cheese
Bon Appétit December 2004
16 slices thin pancetta
16 teaspoons soft fresh goat cheese (from 5-ounce log)
2 very ripe small pears, halved, cored, cut into 1/4-inch-thick slices
Fresh thyme leaves
Preheat oven to 450°F. Place pancetta slices in single layer on large rimmed baking sheet. Sprinkle with pepper. Bake until golden, about 10 minutes. Using spatula, slide pancetta crisps onto platter. Top each with 1 teaspoon goat cheese and 1 pear slice. Sprinkle with thyme and serve.
MacGourmet Rating: 5 Stars
Tonight's main course fell kind of flat. It was in this month's EDWRR in the "Take 5 (or fewer)" section. I thought it looked fresh and light, but it ended up being pretty bland. There just isn't enough going on to make it flavorful. I used whole wheat linguine for this. We even added some shredded parmesan at the end but it was still pretty blah. Oh well.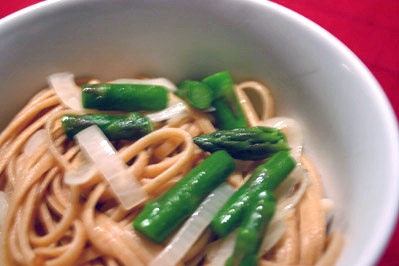 Linguine with Asparagus
Every Day with Rachael Ray May 2007
1 pound linguine
1 onion, sliced into thin wedges
4 cloves garlic, chopped
1 pound asparagus, trimmed and chopped into 1-inch pieces
crushed red pepper
In a large pot of boiling, salted water, cook the linguine until al dente; drain. Meanwhile, in a large skillet, cook the onion and garlic in 1/4 cup extra-virgin olive oil over medium heat until tender and translucent, about 5 minutes. Add the asparagus and 1/4 cup water, cover and cook until the asparagus is tender but still crisp, about 4 minutes more. Season to taste with salt, pepper and crushed red pepper. Add the linguine and toss.
MacGourmet Rating: 3 Stars