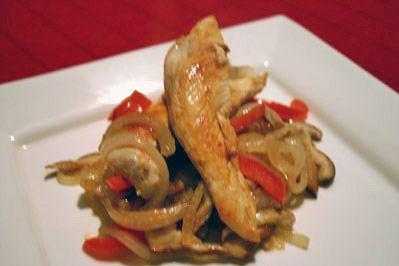 Chicken, Peppers, Onions, and Mushrooms with Marsala Wine
This post may contain affiliate links. Thank you for supporting the brands that keep me creative in my tiny kitchen!
Tonight, I made a recipe from this month's CL. It was really easy to put together and pretty tasty. It was nice having "fancy" mushrooms in a marsala. It really added a lot of extra flavor.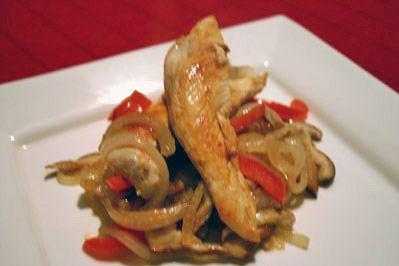 Chicken, Peppers, Onions, and Mushrooms with Marsala Wine
Cooking Light May 2007
Cooking spray
1 ½ lbs. chicken breast tenders
1 ½ cups thinly sliced onion
1 cup thinly vertically sliced red bell pepper (about 1 medium)
2 tablespoons olive oil
½ teaspoon salt
½ teaspoon black pepper
1 package (8-ounce) presliced exotic mushroom blend (such as shiitake, cremini, and oyster)
3 tablespoons Marsala wine
Heat a large nonstick skillet over medium-high heat. Coat pan with cooking spray. Add chicken breast tenders to pan; sauté 7 minutes or until the chicken is done. Remove chicken from pan. Add sliced onion and sliced bell pepper to pan; sauté 5 minutes or until onion starts to brown. Add olive oil, salt, black pepper, and presliced exotic mushrooms to pan; sauté 3 minutes or until mushrooms are tender and onion starts to caramelize. Add Marsala wine and chicken to pan, and cook for 1 minute or until thoroughly heated. Serve immediately.
Yield: 4 servings (serving size: 1 3/4 cups)
Nutritional information per serving:
CALORIES 295(28% from fat); FAT 9.2g (sat 1.6g,mono 5.4g,poly 1.3g); PROTEIN 41.8g; CHOLESTEROL 99mg; CALCIUM 33mg; SODIUM 411mg; FIBER 1.8g; IRON 1.8mg; CARBOHYDRATE 8.9g
MacGourmet Rating: 4 Stars