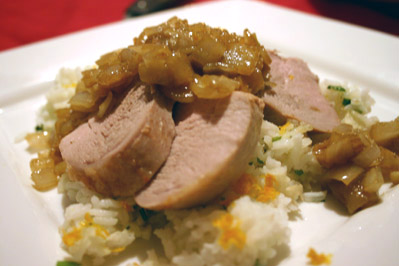 Pork Tenderloin with Onion Marmalade and Zesty Rice
This post may contain affiliate links. Thank you for supporting the brands that keep me creative in my tiny kitchen!
I was a little scared when I was making this dish, because cranking the oven to 500°F made it smoky in the house, but it turned out to be super moist and delicious. This one will definitely be repeated here. It was incredibly flavorful, and every bite I took made me like it more and more. It was a complete meal and didn't require a ton of ingredients or time in the kitchen. A great recipe from this month's EDWRR!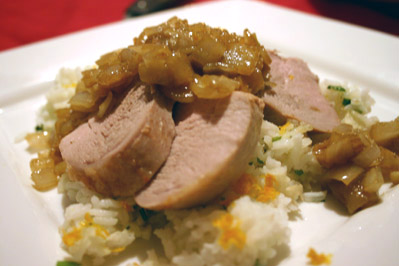 Pork Tenderloin with Onion Marmalade and Zesty Rice
Every Day with Rachael Ray May 2007
2 pork tenderloins
1 tablespoon extra-virgin olive oil
Salt
3 tablespoons butter
2 sweet onions, finely chopped
1 tablespoon ground cumin
Juice and grated peel of 1 orange
2 tablespoons honey
1 cup rice
¼ cup chopped cilantro
Four Servings
Prep Time: 10 min
Cook Time: 35 min
1. Preheat the oven to 500°. Place the pork in a roasting pan, rub with the olive oil and season with salt. Roast for 10 minutes, then turn over and roast for another 10 minutes. Remove the tenderloins from the oven and let rest for 10 minutes.
2. Meanwhile, in a large skillet, melt 2 tablespoons butter over medium-low heat, add the onions and cook, stirring occasionally, until softened, 10 to 15 minutes. Stir in the cumin and half the orange juice; cook for 5 minutes. Stir in the honey and cook for 5 minutes more. Let cool.
3. In a medium saucepan, bring 1 1/2 cups salted water to a boil, stir in the rice, cover, lower the heat and simmer for 15 minutes. Remove from the heat and let rest for 5 minutes. Stir in the remaining 1 tablespoon butter, then the remaining orange juice and the cilantro. Season with salt.
4. Spoon the rice onto plates and sprinkle with the grated orange peel. Cut the pork diagonally into 1/2-inch slices and place on the rice. Spoon the onion marmalade over the pork and serve extra on the side.
MacGourmet Rating: 5 Stars