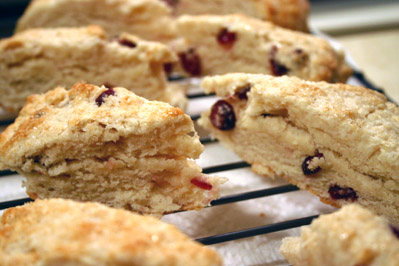 This post may contain affiliate links. Thank you for supporting the brands that keep me creative in my tiny kitchen!
I couldn't find currants at the grocery store, so I used craisins instead. These scones turned out to be absolutely delicious! They were super easy to make, too. The only flaw I saw in them is that it should really be cut into 8 rather than 12 pieces because they're so tiny, but I just ended up eating 2 at a time. This is a very versatile recipe that I'll definitely be repeating with other dried fruits!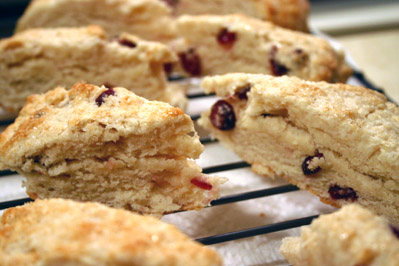 Classic Scones
Cooking Light October 2006
These barely sweet scones are delicious with strawberry jam. Try substituting other dried fruits, such as cranberries or blueberries, for the currants.
2 cups all-purpose flour (about 9 ounces)
3 tablespoons granulated sugar
1 ½ teaspoons baking powder
½ teaspoon salt
5 tablespoons chilled butter, cut into small pieces
½ cup fat-free milk
¼ teaspoon vanilla extract
1 large egg white
⅓ cup dried currants
2 teaspoons fat-free milk
2 teaspoons turbinado or granulated sugar
Preheat oven to 425°.
Lightly spoon flour into dry measuring cups; level with a knife. Combine flour, 3 tablespoons granulated sugar, baking powder, and salt in a bowl; stir with a whisk. Cut in butter with a pastry blender or 2 knives until mixture resembles coarse meal.
Combine 1/2 cup milk, vanilla, and egg white in a bowl. Add milk mixture to flour mixture, stirring just until moist (dough will be soft). Turn dough out onto a lightly floured surface. Sprinkle surface of dough with dried currants. With floured hands, knead 4 times or just until the currants are incorporated.
Pat dough into an 8-inch circle on a baking sheet lined with parchment paper. Cut dough into 12 wedges, cutting into, but not through, dough. Brush 2 teaspoons milk over surface of dough; sprinkle with 2 teaspoons turbinado sugar. Bake at 425° for 17 minutes or until golden. Serve warm, or cool on a wire rack.
Yield: 12 servings (serving size: 1 scone)
Nutritional information per serving:
CALORIES 149(30% from fat); FAT 5g (sat 3g,mono 1.3g,poly 0.3g); PROTEIN 3g; CHOLESTEROL 13mg; CALCIUM 56mg; SODIUM 203mg; FIBER 0.8g; IRON 1.2mg; CARBOHYDRATE 23.4g
MacGourmet Rating: 5 Stars