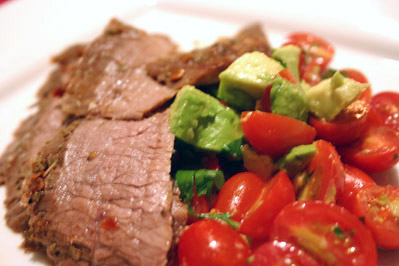 Chile Steak with Avocado-Tomato Salad
This post may contain affiliate links. Thank you for supporting the brands that keep me creative in my tiny kitchen!
I made this last night, but had to make some changes so I can't rate it yet. I couldn't find a good skirt steak, so I used flank and it was a lot larger than what the recipe called for. I should have doubled the sauce but I didn't. I also broiled it instead of using a grill pan. It just tasted like regular steak. The avocado salad was GREAT, but the steak was just basic. I think next time I'd marinate it in the chile/garlic mixture and it would end up making the flavors stick with the steak rather than just staying on the pan.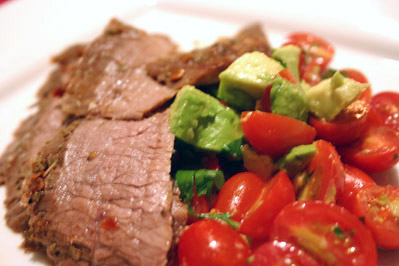 Chile Steak with Avocado-Tomato Salad
Good Housekeeping Rush Hour Dinners
2 chipotle chiles in adobo, finely chopped
2 cloves garlic, crushed with garlic press
2 tablespoons honey
2 teaspoons fresh lime juice
1 teaspoon dried oregano, crushed
¾ teaspoon salt
¼ teaspoon black pepper, coarsely ground
1 beef skirt steak , (about 1 1/4 pounds)
***Avocado-Tomato Salad***
1 pint red or yellow cherry tomatoes, each cut in half
1 ripe avocado, pitted, peeled, and cut into 3/4-inch chunks
1 tablespoon cilantro leaves, coarsely chopped
2 teaspoons fresh lime juice
⅛ teaspoon salt
1. Prepare Chile Steak: In cup, mix chipotles, garlic, honey, and lime juice; set aside.
2. In another cup, mix oregano, salt, and pepper; use to rub on steak.
3. Heat rigid grill pan over medium-high heat until very hot. Place steak in pan; brush with half of chipotle mixture and cook 2 minutes. Turn steak over; brush with remaining chipotle mixture and cook 2 to 3 minutes longer for medium-rare or until desired doneness. Turn again; cook 30 seconds. Transfer steak to cutting board; keep warm.
4. Meanwhile, prepare Avocado-Tomato Salad: In bowl, mix tomatoes, avocado, cilantro, lime juice, and salt. Makes about 3 cups.
5. Thinly slice steak; serve with avocado salad.
Nutritional information per serving:
Each serving steak: About 310 calories, 35 g protein, 13 g carbohydrate,12 g total fat (4 g saturated), 0 g fiber, 108 mg cholesterol, 865 mg sodium.
Each 1/2 cup avocado salad: About 65 calories, 1 g protein, 5 g carbohydrate, 5 g total fat (1 g saturated), 2 g fiber, 0 mg cholesterol, 55 mg sodium.