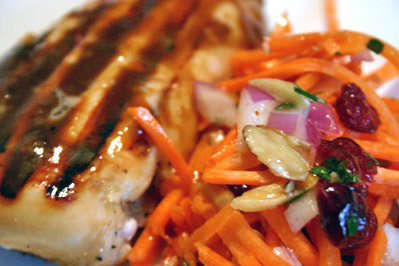 Maple-Glazed Chicken Breasts | Carrot Salad
This post may contain affiliate links. Thank you for supporting the brands that keep me creative in my tiny kitchen!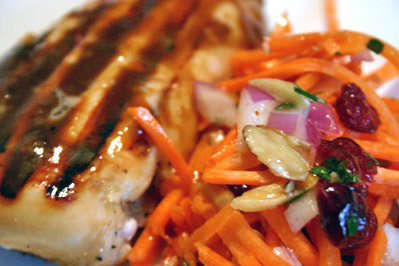 These recipes were easy to put together, but require some time to marinate. The chicken turned out really tasty – it was very moist after grilling. I didn't remove the tenders and it worked out perfectly. I think this would be easily adapted to a crowd too.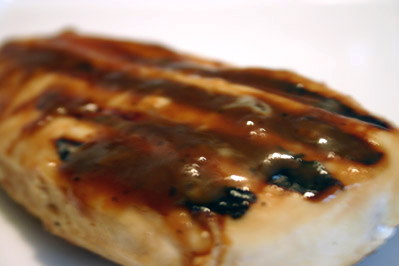 Maple-Glazed Chicken Breasts
Eating Well
Makes 2 servings
ACTIVE TIME: 20 minutes
TOTAL TIME: 2 hours 20 minutes (includes 2 hours marinating time)
2 tablespoons pure maple syrup
1 tablespoon reduced-sodium soy sauce
2 teaspoons lemon juice
1 clove garlic, minced
1 teaspoon minced fresh ginger
¼ teaspoon freshly ground pepper
2 boneless, skinless chicken breasts (about 8 ounces), trimmed and tenders removed (see Tip)
Here's an easy main dish that's sure to set you on your own quest for the best syrup. Start the chicken breasts marinating on a Saturday afternoon for a quick meal later in the day, just about the time you come in from raking the last of the winter leaves off the garden.
1. Whisk syrup, soy sauce, lemon juice, garlic, ginger and pepper in a small, shallow dish. Add chicken and turn to coat with the marinade; cover and refrigerate for 2 hours, turning once.
2. Coat an indoor grill pan with cooking spray and heat over medium heat. Remove the chicken from the marinade (reserving the marinade) and cook until an instant-read thermometer inserted into the thickest part of the breast registers 165°F, 3 to 5 minutes per side.
3. Meanwhile, pour the reserved marinade into a small saucepan and bring to a simmer over medium heat. Cook until reduced by about half, about 4minutes. Liberally baste the chicken with the reduced sauce and
serve.
TIP: Wrap and freeze the chicken tenders. When you have gathered enough, use them in a stir-fry—they are the perfect size.
NUTRITION INFORMATION: Per serving: 186 calories; 1 g fat (0 g sat, 0 g mono); 66 mg cholesterol; 15 g carbohydrate; 27 g protein; 0 g fiber; 343 mg sodium; 361 mg potassium. Nutrition bonus: Selenium (30% daily value). 1 Carbohydrate Serving Exchanges: 1 other carbohydrate, 4 very lean meat
MacGourmet Rating: 4 Stars
The side dish sounded really good, but we really didn't really care for the flavors in it. It wasn't bad, but not what we were expecting.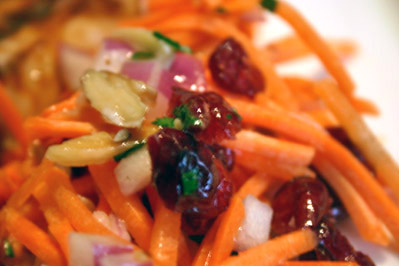 Carrot Salad
Familly Circle
¼ cup olive oil
2 tablespoons lemon juice
1 tablespoon chopped flat-leaf Italian parsley
1 teaspoon Dijon mustard
1 teaspoon salt
½ teaspoon sugar
1 bag (10 ounces) shredded carrots
½ cup dried cranberries
1 small red onion, chopped
½ cup slivered almonds, toasted
Prep: 5 minutes
Chill: 2 hours or overnight
1. Combine olive oil, lemon juice, parsley, mustard, salt and sugar in small bowl.
2. Combine carrots, cranberries, onion and almonds in large bowl. Add dressing. Cover and refrigerate 2 hours or overnight. Makes 6 servings.
Nutritional information per serving:
calories: 208
total fat: 15g
saturated fat: 2g
cholesterol: 0mg
sodium: 395mg
carbohydrate: 18g
fiber: 3g
protein: 3g
MacGourmet Rating: 3 Stars