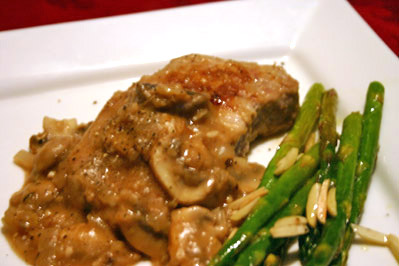 This post may contain affiliate links. Thank you for supporting the brands that keep me creative in my tiny kitchen!
This recipe was pretty good, but there were a few issues with it. First off, I couldn't find fresh thyme so I used dried. Secondly, my pork chop was REALLY tough, but Dino's wasn't, so I think I just got a dud. It tasted good, but could have used a little more flavor somewhere. I'm not sure if the fresh thyme alone would do it or not. Regardless, this was pretty easy to make, quick, and tasty. I served it with some asparagus that I baked with olive oil, salt and pepper, and some slivered almonds. I drizzled it with sesame oil at the end.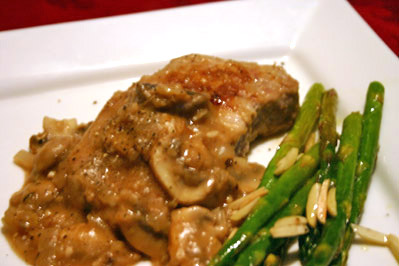 Pork Chops Marsala
Cooking Light April 2007
Serve with mashed potatoes. Garnish with thyme sprigs, if desired.
Heat a large nonstick skillet over medium-high heat. Place 1/4 cup flour in a shallow dish. Dredge pork in flour. Coat pan with cooking spray. Add pork to pan; cook 4 minutes on each side or until browned. Remove pork from pan.
Add shallots, garlic, and mushrooms to pan; sauté 3 minutes or until moisture evaporates. Add remaining 2 tablespoons flour and thyme to pan, and cook for 1 minute, stirring well. Combine chicken broth and Marsala, stirring until smooth. Gradually add broth mixture to pan, stirring constantly with a whisk; bring to a boil. Reduce heat and simmer 2 minutes or until sauce thickens.
Return pork to pan; cook 2 minutes or until desired degree of doneness, turning to coat. Sprinkle with salt and pepper.
Yield: 4 servings (serving size: 1 pork chop and 1/2 cup sauce)
Nutritional information per serving:
CALORIES 242(25% from fat); FAT 6.8g (sat 2.5g,mono 2.9g,poly 0.6g); PROTEIN 27g; CHOLESTEROL 67mg; CALCIUM 44mg; SODIUM 299mg; FIBER 1.1g; IRON 2.1mg; CARBOHYDRATE 15.4g
MacGourmet Rating: 4 Stars