Chicken Baked in Coconut-Curry Sauce
This post may contain affiliate links. Thank you for supporting the brands that keep me creative in my tiny kitchen!
I was really excited to try this recipe out, but it was a little bland. The contents of the pouches were cooked really well, but it was missing something. It was my first time cooking with curry paste, and I got mild because I wasn't sure how spicy it would be. I don't know what could have made this one better, but oh well.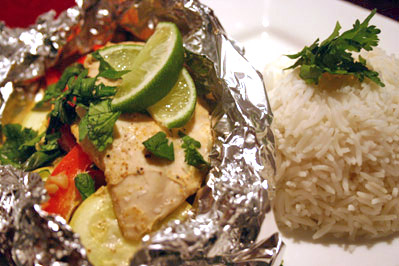 Chicken Baked in Coconut-Curry Sauce
Cooking Light April 2007
The rich coconut milk, hot curry paste, and garlic create a sauce that keeps the chicken moist. Serve over basmati rice.
½ cup coconut milk
¼ cup fat-free, less-sodium chicken broth
2 teaspoons minced garlic
1 to 1 1/2 teaspoons red curry paste
4 (6-ounce) skinless, boneless chicken breast halves
¾ teaspoon kosher salt
½ teaspoon freshly ground black pepper
2 medium zucchini, halved lengthwise and thinly sliced (about 2 cups)
1 cup thinly sliced yellow squash (about 2 small)
1 cup 1/4-inch-thick red bell pepper strips (about 1 large)
½ cup diagonally cut green onions
4 teaspoons chopped fresh cilantro
4 lime wedges
Preheat oven to 425°.
Combine first 4 ingredients in a medium bowl; stir with a whisk.
Place chicken breast halves between 2 sheets of heavy-duty plastic wrap; pound each piece to an even thickness using a meat mallet or small heavy skillet. Sprinkle salt and pepper evenly over both sides of chicken.
Fold 4 (16 x 12-inch) sheets of heavy-duty aluminum foil in half crosswise. Open foil; layer 1/2 cup zucchini, 1/4 cup squash, 1/4 cup bell pepper, 2 tablespoons green onions, and 1 chicken breast half on half of each foil sheet. Spoon 3 tablespoons of coconut milk mixture over each serving. Fold foil over chicken and vegetables; tightly seal edges.
Place packets on a baking sheet. Bake at 425° for 22 minutes. Remove from oven; let stand 5 minutes. Place on plates. Unfold packets carefully, and sprinkle each serving with 1 teaspoon cilantro. Garnish with lime wedges. Serve immediately.
Yield: 4 servings (serving size: 1 packet and 1 lime wedge)
Nutritional information per serving:
CALORIES 278 (27% from fat); FAT 8.4g (sat 5.9g,mono 0.8g,poly 0.6g); PROTEIN 41.7g; CHOLESTEROL 99mg; CALCIUM 57mg; SODIUM 523mg; FIBER 2.3g; IRON 2.8mg; CARBOHYDRATE 8.4g
MacGourmet Rating: 3 Stars