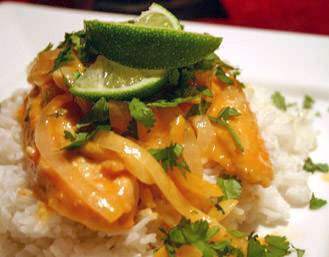 This post may contain affiliate links. Thank you for supporting the brands that keep me creative in my tiny kitchen!
I was planning on making this for dinner a few weeks ago, but then I ended up having oral surgery and was told to stay away from spicy foods for a while. So we had this tonight and it was great (and VERY spicy!). I couldn't find light coconut milk, so I used regular, and I made rice in my rice cooker instead of the boil-in-bag type. I think next time I'll cut the chicken into chunks. This was my second time cooking with fish oil (I'm not much of a seafood fan) and it turned out great again! Maybe there's some magic in that bottle!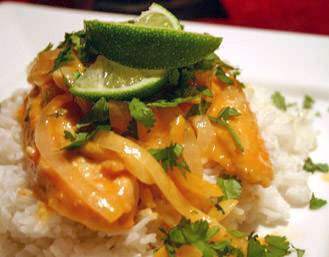 Thai Chicken Sauté
Cooking Light March 2007
Use less hot sauce for milder flavor.
1 (3 1/2-ounce) bag boil-in-bag rice
1 1/2 pounds chicken breast tenders
1 tablespoon cornstarch
1 tablespoon fish sauce
4 teaspoons canola oil, divided
1 cup sliced onion
2 teaspoons bottled minced garlic
1 teaspoon bottled ground fresh ginger (such as Spice World)
1/2 cup light coconut milk
2 tablespoons Sriracha (hot chile sauce, such as Huy Fong)
1 tablespoon sugar
1 tablespoon fresh lime juice
2 tablespoons chopped fresh cilantro
4 lime wedges
Cook rice according to package directions, omitting salt and fat. Keep warm.
Toss chicken with cornstarch and fish sauce. Heat 1 tablespoon oil in a large nonstick skillet over medium-high heat. Add chicken to pan; sauté 5 minutes. Remove chicken from pan. Heat remaining 1 teaspoon oil in pan. Add onion, garlic, and ginger to pan; sauté 1 minute. Return chicken to pan; cook 1 minute or until done. Stir in coconut milk, Sriracha, sugar, and juice; cook 45 seconds or until thoroughly heated. Sprinkle each serving with 1 1/2 teaspoons cilantro. Serve chicken mixture over rice with lime wedges.
Yield: 4 servings (serving size: 1 1/2 cups chicken mixture, 1/2 cup rice, and 1 lime wedge)
NUTRITION PER SERVING
CALORIES 403(24% from fat); FAT 10.8g (sat 3.1g,mono 4.3g,poly 2.4g); PROTEIN 42.6g; CHOLESTEROL 108mg; CALCIUM 32mg; SODIUM 650mg; FIBER 0.5g; IRON 2.4mg; CARBOHYDRATE 31.4g
MacGourmet Rating: 5 Stars