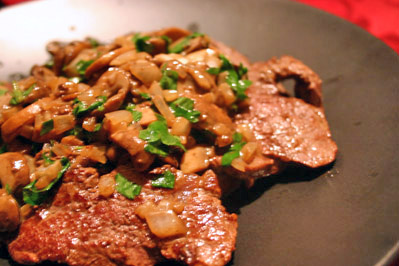 This post may contain affiliate links. Thank you for supporting the brands that keep me creative in my tiny kitchen!
I saw Paula make this over the weekend on Food Network on a show about quick and easy recipes. It was really quick, but it's an expensive meal to make. I've never bought beef tenderloin before, and it's definitely worth the money, but I couldn't splurge on it too often. The sauce is incredibly flavorful with not too many ingredients. There is one thing that she did that wasn't in the recipe on the website – after she fried the steaks, she took them out of the pan and put the mushroom mixture back into the pan to get all of the steak juices into the sauce. I think this made the sauce have that little extra something and it was fantastic. This one is very simple and VERY impressive! I served it up nice and simple with baked potatoes.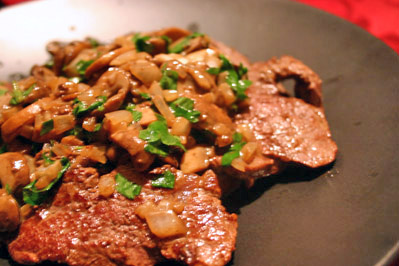 Steak Diane
Paula's Home Cooking
6 tablespoons butter
½ cup sliced mushrooms
2 tablespoons minced onion
1 clove garlic, crushed
1 teaspoon fresh lemon juice
1 teaspoon Worcestershire sauce
⅛ teaspoon salt
2 tablespoons snipped fresh parsley leaves
1 lb. beef tenderloin, cut into 8 slices
Difficulty: Easy
Prep Time: 5 minutes
Cook Time: 20 minutes
Yield: 4 servings
Melt 4 tablespoons of the butter in a large skillet over medium heat. Add the mushrooms, onions, garlic, lemon juice, Worcestershire sauce, and salt, and cook, stirring, until the mushrooms are tender. Stir in the parsley; pour the sauce into a small metal bowl or saucepan, cover, and keep warm. Melt the remaining 2 tablespoons of butter in the skillet. Cook the steaks over medium-high heat, turning them once, for 3 to 4 minutes on each side for medium. Serve the steaks with the mushroom sauce.
MacGourmet Rating: 5 Stars