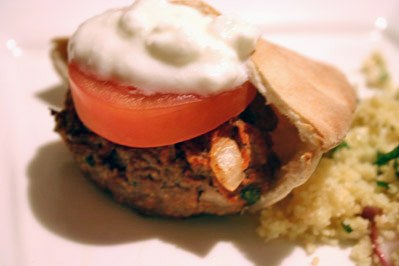 Superfast Kofte | Couscous Salad
This post may contain affiliate links. Thank you for supporting the brands that keep me creative in my tiny kitchen!
This recipe for kofte is very similar to the recipe that I love so much for Persian Meatloaf, even down to the fact that I had to cook it for longer than the recipe indicates. It was very tasty and I'll definitely make it again. Maybe I'll even make little patties out of the meatloaf recipe.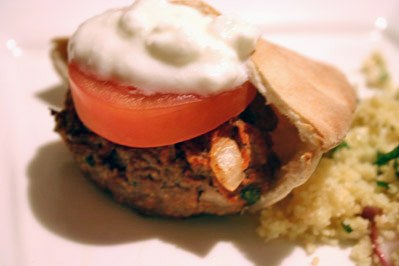 Superfast Kofte
Cooking Light March 2007
½ cup prechopped white onion
⅓ cup dry breadcrumbs
¼ cup chopped fresh mint
2 tablespoons tomato paste
1 teaspoon bottled minced garlic
½ teaspoon salt
½ teaspoon ground cumin
¼ teaspoon ground cinnamon
¼ teaspoon ground red pepper
⅛ teaspoon ground allspice
1 lb. lean ground round
1 large egg white, lightly beaten
Cooking spray
8 slices (1/4-inch-thick) plum tomato (about 2 tomatoes)
4 (6-inch) pitas, split
¼ cup plain yogurt
Kofte, Turkish meatballs often grilled on a stick, can be made from ground lamb, beef, or a combination.
Preheat broiler.
Combine first 12 ingredients in a large bowl; stir until just combined. Divide mixture into 8 equal portions; shape each portion into a (2-inch) patty. Place patties on a jelly-roll pan coated with cooking spray. Broil 4 minutes on each side or until desired degree of doneness. Place 1 tomato slice and 1 patty in each pita half; top each half with 1 1/2 teaspoons yogurt.
Yield: 4 servings (serving size: 2 filled pita halves)
Nutritional information per serving:
CALORIES 423(24% from fat); FAT 11.4g (sat 4.3g,mono 4.3g,poly 0.9g); PROTEIN 31.6g; CHOLESTEROL 75mg; CALCIUM 114mg; SODIUM 766mg; FIBER 3.2g; IRON 4.3mg; CARBOHYDRATE 46.7g
MacGourmet Rating: 5 Stars
I made this side dish because I saw it in the back of CL as a menu suggestion to go with the kofte. It was OK but not anything great. I have plenty of other things to try with couscous, so I probably won't be making this again.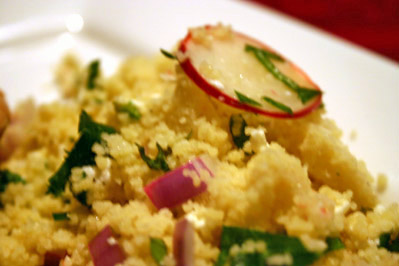 Couscous Salad
Cooking Light March 2007
Bring 1 cup water to a boil in a medium saucepan; gradually stir in 1 cup couscous. Remove from heat; cover and let stand 5 minutes. Fluff with fork. Combine couscous with 1/2 cup sliced radish, 1/2 cup crumbled feta, 1/4 cup chopped red onion, 2 tablespoons chopped fresh parsley, 1 tablespoon chopped fresh mint, 1 tablespoon extravirgin olive oil, 2 teaspoons fresh lemon juice, 1/4 t easpoon salt, and 1/4 teaspoon freshly ground black pepper; toss gently.
MacGourmet Rating: 3 Stars