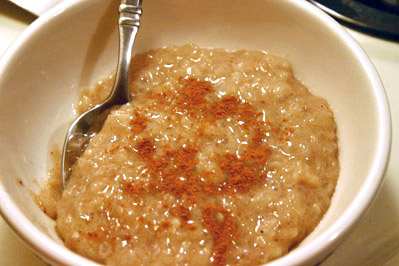 This post may contain affiliate links. Thank you for supporting the brands that keep me creative in my tiny kitchen!
Dino was craving rice pudding while I was sick, so I looked up a recipe and told him to go for it! We used sticky rice, and it turned out REALLY tasty! It was also nice that it didn't have a ton of dairy in it since he's lactose intolerant. I'll definitely have to make this one when I'm feeling up to eating lots of it!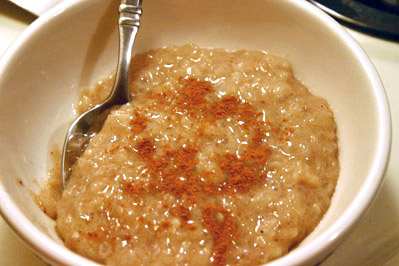 Rice Pudding
Ellie Krieger
Difficulty: Easy
Prep Time: 10 minutes
Cook Time: 1 hour 5 minutes
Yield: 8 servings (2/3 cup, 1 teaspoon condensed milk)
2 cups water
1 cup Arborio rice
3 cups vanilla soy milk
¼ cup sugar
Pinch salt
1 cinnamon stick
½ teaspoon vanilla extract
½ teaspoon ground cinnamon, plus more for dusting
¼ teaspoon ground nutmeg
2 tablespoons plus 2 teaspoons sweetened condensed milk
Preheat the oven to 375 degrees F.
Bring the water to a boil in a medium sized, heavy, ovenproof saucepan. Add the rice, cover, and simmer for 20 minutes, until rice is nearly cooked. In a large bowl, whisk the soymilk, sugar, and salt. When the rice is cooked and still hot, add the soymilk mixture and cinnamon stick. Cover, place in the oven and cook for 45 minutes.
Remove from the oven, uncover, and remove the cinnamon stick. Stir in the vanilla, cinnamon and nutmeg. Pudding will be slightly liquidy; the liquid will continue to absorb into the rice and thicken as the pudding cools. Distribute among 8 bowls, drizzle each with 1 teaspoon of the condensed milk. Dust with cinnamon and nutmeg, if desired. Serve warm or at room temperature.
MacGourmet Rating: 5 Stars