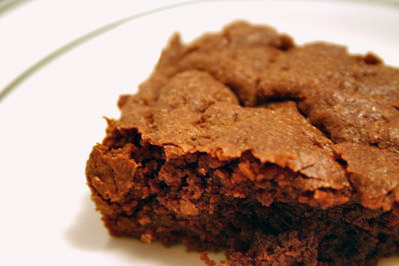 This post may contain affiliate links. Thank you for supporting the brands that keep me creative in my tiny kitchen!
I love chai. I love chocolate. What sounds better than chai latte brownies? Well…a regular chai latte and a brownie on the side. I dunno, I guess I expected this to be really good, and it was just OK. I've never made brownies from scratch before (I'll admit it, I like box mixes for brownies) so this was a first for me. The batter was REALLY thick and it just wasn't what I like in a brownie. Dino thought it didn't sound good just from the name, but I convinced him to let me try it out. I'm sending them to work with him tomorrow because I don't even want to eat any more of them. That's right…brownies so blah that I won't even polish them off in a few days. Maybe I should try one of the chai spice cookies that I have a recipe for instead.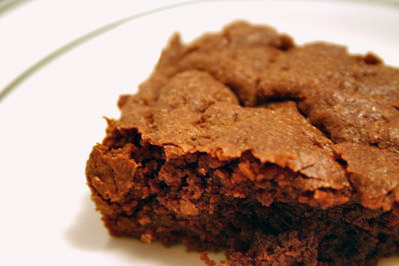 Chai Latte Brownies
Cooking Light March 2007
¼ cup 1% low-fat milk
3 cardamom pods, crushed
3 whole allspice, crushed
3 cloves whole
1 (1-inch) cinnamon stick
¼ cup semisweet chocolate chips
¼ cup butter
2 large eggs
1 ½ cups all-purpose flour (about 6 3/4 ounces)
1 cup granulated sugar
½ cup unsweetened cocoa
⅓ cup packed brown sugar
1 teaspoon baking powder
½ teaspoon salt
Cooking spray
Preheat oven to 350°.
Combine first 5 ingredients in a small saucepan; bring to a boil. Cover, remove from heat, and let stand 15 minutes. Strain milk mixture through a fine sieve into a large microwave-safe bowl; discard solids. Add chocolate chips and butter to milk mixture; microwave at HIGH 20 seconds or until chips and butter melt, stirring until smooth. Cool slightly; add eggs, stirring with a whisk.
Lightly spoon flour into dry measuring cups; level with a knife. Combine flour and the next 5 ingredients (through salt) in a medium bowl, stirring with a whisk. Add flour mixture to chocolate mixture, stirring just until combined. Spread evenly into a 9-inch square baking pan coated with cooking spray. Bake at 350° for 30 minutes or until center is set. Cool 10 minutes in pan on a wire rack. Cut into 20 pieces.
Yield: 20 servings (serving size: 1 brownie)
Nutritional information per serving:
CALORIES 130(26% from fat); FAT 3.8g (sat 1.9g,mono 1.5g,poly 0.2g); PROTEIN 2.2g; CHOLESTEROL 27mg; CALCIUM 29mg; SODIUM 110mg; FIBER 1.1g; IRON 1mg; CARBOHYDRATE 23.5g
MacGourmet Rating: 3 Stars